Biomass pellets offer a sustainable and cost-effective alternative to traditional fuels, and their applications in biofuel, animal feed, electricity generation, and fertilizer are growing in popularity. Raw materials for pellet making are widely available and include plant, animal, and microorganism-based materials. Wood pellets are commonly made from hardwood and softwood, while feed pellets offer comprehensive nutrition and improved digestibility for animals.
Wood Pellets Making for Biomass Fuels


Biomass Pellet Materials and Applications
Wood pellets are commonly made from wood chips, sawdust, shavings, bark, crop straw, and other biomass materials. Raw materials for wood pellets can be divided into hardwood and softwood based on the type of wood. Hardwood has high density and low water content, while softwood burns more efficiently but has a shorter burning time. In the production process, the water content of raw materials should be controlled to 10-15%, and heat and pressure change the structure and density of materials, resulting in equal combustion value for hardwood and softwood of the same weight.
Feed Pellet Mill Producing for Animal Feed

Small Animal Feed Pellet Production Line for Sale
Feed pellets are made from core, bean pulp, straw, rice husk, and other raw materials. They can be classified into different types based on their applications, such as fish pellet feed, poultry feed pellet and feed pellet for cattle, sheep, rabbit and pig. Feed pellets have advantages such as comprehensive nutrition, improved digestibility, decreased picky-eating behavior of animals, and ease of transport and storage.
Our Company's Expertise in Pellet Production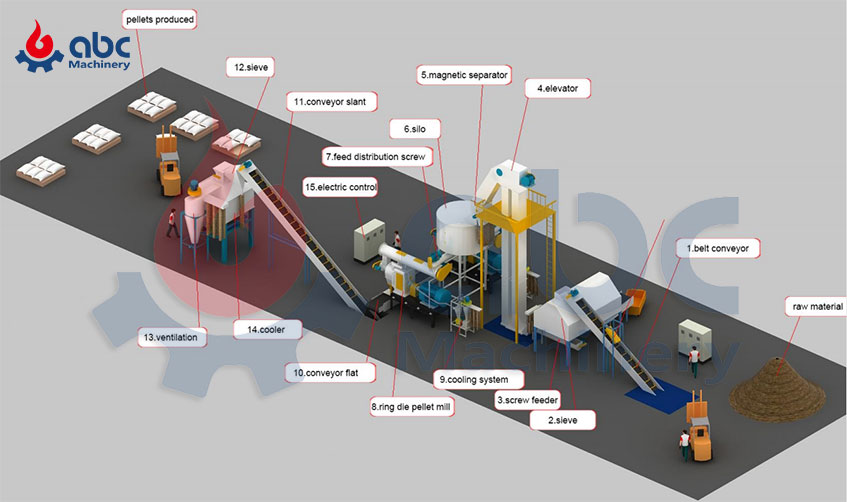 Offer an One-stop Solution at ABC Machinery
At ABC Machinery, we are experts in pellet production and can provide an one-stop solution for all your pellet production needs. We offer a wide range of pellet mills, including flat die and ring die pellet mills, suitable for various materials and applications. We also provide pellet production lines with complete turnkey solutions, including design, installation, and training. Our team of experienced engineers and technicians can provide professional guidance and support to ensure you get the best results.