Briquetting is a mechanism process to turn raw materials into briquettes by corresponding machines. Generally, sawdust, wood chips, straw, rice husk, peanut shells and other agricultural waste are good raw material for briquette making. Since it has long combustion time, less combustion smoke, has a lot of heat and more features, wood briquette is quite popular in many countries. Wood briquettes have a wide range of USES. In industrial, it can be used for industrial materials of carbon and carbon for carburizing metallurgical and chemical industries; In the aspect of life, wood briquettes can be used as fuels for heating, barbecue, hot pot and others. (Read more: How to Make Briquettes from Sawdust >>)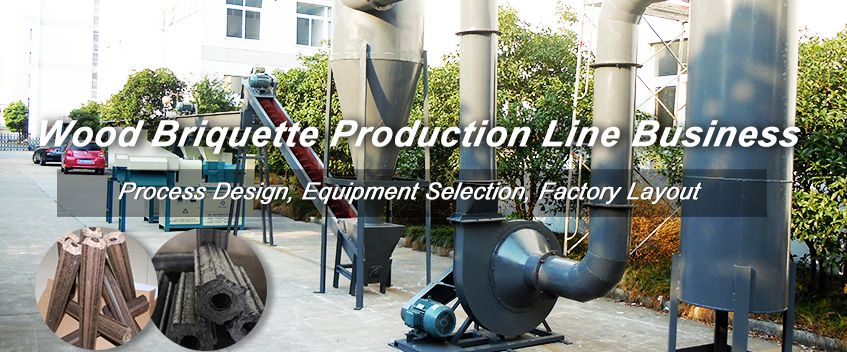 Wood Briquette Production Machine Manufacturer
ABC Machinery is a professional manufacturer of briquetting machines. Our core product has crusher, dryer, briquette machine, carbonization furnace and more. After years of research and development, our wood briquette production machines are constantly updated. And we have accumulated rich practical experience in briquetting. Our wood briquette production line is reasonable, stable and convenient operation, and can produce higher quality briquettes, which makes it the best choose for wood briquette making business.
1TPH Wood Briquette Production Line to Uruguay
Recently, a client from Uruguay ordered a set of 1TPH wood briquette production line from us. He purchased it to produce wood briquettes from sawdust and chips. The main equipment of this biomass briquette plant has crusher, dryer and briquette machine. Below are some picture taken when our engineers checking all the equipment before packaging and delivery. (Similar project: 1t/H Briquetting Plant in Pakistan >>)
If you are also interested in having a wood briquette production line, please contact us to get the detailed machine price and parameters. We can also provide various materials to help you understand how it work, including pictures or videos. Just don't forget tell your specific needs and budget, free quotation are always available!
1TPH Wood Briquette Production Line Advantages

Wood Briquette Production Line
Multifunctional design of wood sawdust briquette making machine: all-in-one machine for granule, briquetting, and the diameter can be 8, 10, 20, 30, 50, 60, 70 and 75mm.
Stable discharge molding: mechanical stamping design, using the principle of mechanical stamping to automatically adjust the pressure angle, so that the material is not crowded, not boring machine, to ensure the stability of the discharge molding.
High capacity of sawdust briquette-making machine: the equipment can work continuously for 24 hours, and the average output (not the time output) is 0.8-1.5 tons / hour;
Simple operation: high degree of automation, less labor, only 2 people, automatic feeding with conveyor, automatic feeding with supporting baler.
Wide applicability of raw materials: suitable for rice husks, plant straws, grain shells, peanut seedlings (shells), cotton stalks, coffee shells, wood chips, sawdust, branches, bark, bamboo powder, furfural (soy sauce, vinegar) Molding of various biomass raw materials such as slag (mixed use of raw materials), wood scraps, forest residues, domestic garbage, etc .;
Wood Briquette Production Process
Typical briquette production process has crushing, drying, briquetting. (Read more: Advantage of Using Wood Briquette Machine >>)


Wood Briquette Production Process
The quality of crushing has an important influence on the quality of the briquette. After repeated tests and experiments by engineers, only the briquette will form better under the condition that the raw material is crushed to less than 3 mm. If it cannot be crushed sufficiently, it is recommended use 2 times of crushing or 3 times of crushing, the crusher blade adopts manganese steel alloy plus carbon blade, the working performance is stable, and the crushing efficiency is high.
The drying degree is controlled according to the drying conditions. Only drying the raw materials to a moisture content of 6% to 12% is the prerequisite for producing a good quality briquette. Usually a dryer is used to complete the drying. The configured dryer is used to dry quickly, which can achieve The speed of 1 tons per hour, accurate temperature control, can be adjusted in 190-300 degrees, and can be burned in the drying process, saving raw materials.
After crushing and drying, it enters the key step of briquette-making, and the briquette can be produced after the last step, usually using briquette machine. At the same time, the briquette-making machine is also a more critical and important equipment in a wood briquette production line. We have many types of briquette-making machines, there are high-quality briquette-making machines to choose from, factory price and good quality, fast making speed and high forming efficiency.
Wood Briquette Production Plant Working Video
| Solid Fuel | Price per kg [€] | Energy Value [kWh/kg] | Price per kWh [ct] |
| --- | --- | --- | --- |
| lignite briquettes | 0,24 | 5,6 | 0,04 |
| hardwood briquettes | 0,35 | 5,3 | 0,06 |
| coniferous wood briquettes | 0,24 | 4,9 | 0,05 |
| bark briquettes | 0,51 | 4,5 | 0,11 |
| pellets | 0,33 | 4,9 | 0,07 |
ABC Machinery is a large scale biomass processing equipment manufacturer in China and boasts strong technical strength in biomass energy production. Our biomass briquette machine has been exported to Pakistan, Canada, Uganda, Nigeria, United Kingdom, Philippines, and other regions. Choose us to set up briquetting plant, you can save a lot of efforts and cost. We not only provide customized plan to help you choose the right equipment and process based on your specific requirements, but also offer factory price to help you lower the investment cost, so you can recover the investment quickly. Any questions, please just contact directly!