A Profitable Investment Project: Establishing a Biomass Pellet Production Plant
If some wood or furniture processing manufacturers waste a lot of shavings and chips, you may miss a lot of money-making opportunities. Shavings are the long strips of wood chips produced when processing wood products. Have you ever seen piles of shavings left unattended in factories making wooden furniture? However, shavings have a wider range of uses and you can even make a big profit from them.
Used to make pet bedding, used in mice labs, horse ranches, feedlots, etc.

Making particle board to block the noise impact.

Pressed into biomass pellets, used for boiler fire or instead of oil as biomass fuel.
Among them, the best and most common role of shavings is for making biomass pellets. Therefore, an increasing number of investors consider that establishing a biomass pellet production plant is a profitable business project!

Business Investment: Start a Biomass Wood Pellets from Wood Shavings Project
If you are very interested in making wood pellets from shavings, please continue reading this article to get a good start, ABC Machinery will mainly take you through the steps of the biomass pellet production line to better make your own wood pellets!

Step by Step Guide to Make Shavings Biomass Pellet Production Process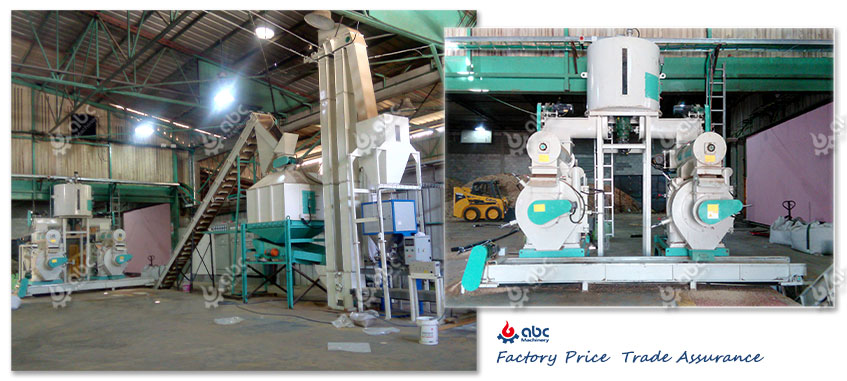 2-3TPH Wood Shaving Pellet Plant in Israel
[Contact Us to Get Customized Business Proposal on Biomass Pellet Production]
As mentioned above, industrial biomass pellet mills have always been the main production facility for large quantities of pellets. However, in the recent past, the situation has gradually changed. Individual pellet production is becoming more and more popular in the country and small businesses are taking steps (see small pellet production lines). You may be one of those people who want to make your own biomass pellets. Therefore, the following steps apply to you.
► Step 1. Storage and Transport of Raw Material
Use wood shavings as the main raw material. To ensure sufficient raw material replenishment and continuous production, it is necessary to build a raw material storage room first. The roof of the raw material warehouse should be able to protect against rain, light and wind. In addition, isolation measures and fire protection facilities are needed to ensure production safety. After reduction of the biomass raw material, it needs to be transported to the dryer. This can be done using screw conveyors and elevators.
► Step 2. Pre-treatment Stage of Raw Material
First Sie​ving:The wood shavings are fed to the sifter for sieving through a screw conveyor. In this process, large pieces of wood, iron or other impurities are sieved off.
Drying:Biomass pelletizing has strict requirements on the moisture content of the raw material. After sieving, the wood shavings are sent to the drum dryer by a screw conveyor. In the dryer, the shavings can be dried by hot air to a preset moisture content.
Cyclone Separation:After drying, there is a lot of moisture in the air during the transfer process. The moisture is removed using a cyclone separator.
► Step 3. Biomass Pelleting Process
The wood shavings pelletizer is the key equipment of the complete pellet production line. Therefore, it is most important to choose a reliable biomass pellet equipment manufacturer. Our Ring Die Pellet Mill can process sawdust, corn stalk, rice straw, cotton stalk, peanut shell and many other biomass materials. The density of finished pellets can reach 1.0~1.3t/m³.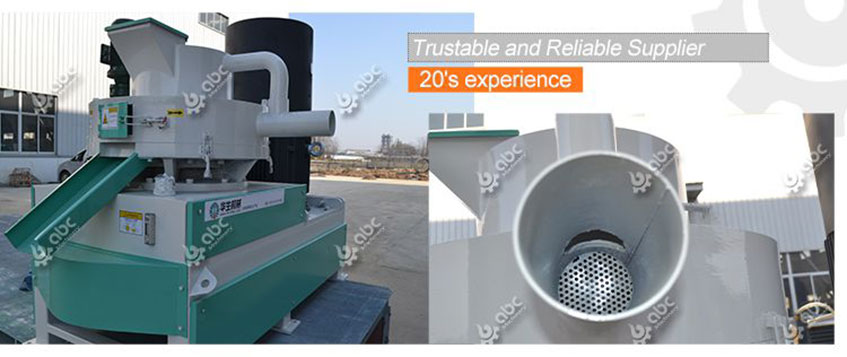 Large Scale Ring Die Pellet Mill for Commerical Purpose
Vertical Ring Die Pellet Mill Technical Data

| Model | BPM35 |
| --- | --- |
| Capacity | 500-700kg/h |
| Main Motor Power | 30*2kw |
| Feeding Motor Power | 0.75kw |
| Forced-feeding Motor Power | 0.75kw |
| Weight | 2200kg |
| Packing Size | 1850*1950*1500mm |
>>>>>>To buy a commercial biomass pellets making machine or complete wood pellet production processing line at factory price, Click Biomass Pellet Mill for more details.
► Step 4. Cooling & Sieving
When discharging from the pelletizer, the temperature is around 80~90℃. The structure is relatively loose and easy to break. With a counter-current cooling system, the pellets will be cooled to room temperature and become compact and durable. They can then be packed in bags or transported to storage silos. In addition to the cooling fan, the cooling system is designed with a cyclone separator to separate the powder from the pellets and return the powder to the previous pelleting process.
► Step 5. Bagging and Storage
This is the final step to complete the biomass pellets. It can be stored for immediate use or shipped to the consumer. Store in a dry place, away from moisture, mainly in sealed plastic bags.
Wood Shavings Pellet Making Machine Working Video
The capacity of our wood shavings pellet mill for processing sawdust and other wood and biomass waste ranges from 1200kg/h to 1500kg/h. Therefore, it is not only a suitable choice for those who are looking for a commercial wood pellet mill, but also suitable for making fuel pellets from agricultural waste on farms with high output and low production costs.
ABC Machinery is a professional biomass pellet processing equipment manufacturer and supplier in China, offering not only commercial ring die wood pellets making machines and small-scale flat die biomass pellet production unit at factory wholesale price, but can also help you build a customized complete biomass pellet plant with a limited budget. We are definitely the BEST choice due to reliable quality, reasonal price and professional experiences. Welcome to contact us anytime!