Ring die pellet mill is generally large wood pellet production equipment because of its large capacity as compared to small flat die pellet mill. It is usually used for industrial or commercial biomass pellet production. For example, investors who want to make pellets for sale or demand for large quantity biomass pellets would prefer to buy ring die pellet mill to build a complete biomass pellet plant.
Due to the strong pressure of compression, ring die pellet machine is able to process various materials, especially materials that is difficult to bond and form, so it is the ideal pelletizer to produce high quality biomass pellets that are widely used in power plants, carpentry factory and other chemical plants.

Commercial Wood Pellet Mill Technical Data
Model
BPM35
BPM420
BPM508
Capacity
500-700kg/h
Sawdust: 1.2-1.5T/H;
Straw: 2.0-2.5T/H
Sawdust: 1.5-2.0T/H;
Straw:2.5-3.5T/H
Main Motor Power
30*2kw
90kw
110kw
Feeding Motor Power
0.75kw
1.5kw
1.5kw
Forced-feeding Motor Power
0.75kw
3kw
2.2kw
Weight
2200kg
3000kg
3700kg
Packing Size
1850*1950*1500mm
1100*2700*2000mm
1200*2900*2000mm


If you are interested in our ring die pellet mill, or you are not sure whether your raw material can be made into pellets or not, just don't hesitate to contact us! We have a professional team to solve all your problems!
Biomass Materials Ring Die Pellet Machine Can Process

Biomass Pellets Made by Ring Die Pellet Machine
Softwood: While Pine, Red Pine, Fir, Cypress, Larch, Basswood, etc. (shavings, sawdust, logs, and other forms);
Hardwood: Oak, Birch, Cypress, Basswood, Elm Tree, Hickory, Cherry, Larch, Maple, Poplar, etc. (shavings, sawdust, logs, and other forms);
Other biomass: Palm Fiber, Coconut Shell, Sugarcane Bagasse, Peanut Shell, Straw, Stalk, etc.
If you are interested in ring die feed pallet making machine to setup feed manufuacturing plant for livestock, poultry, aquatic fish, etc. please check our commercial feed pellet mill >>
Reasons to Choose Our Ring Die Biomass Pellet Machine
ABC Machinery place itself ahead by offering high quality commercial wood pellet mill. In these years, our equipment has been exported to at least 60 countries and gained the vast majority of customer's consistent approval for its superior performance and factory price. Now, let's know more about the ring die pellet mill for sale!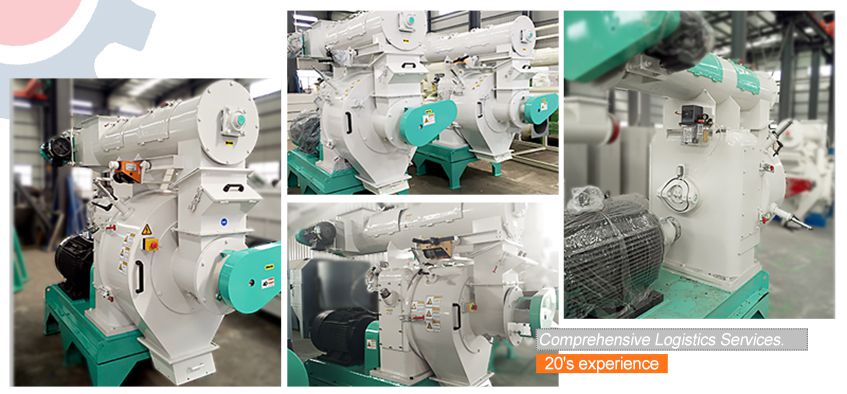 Pellet Mill Ring Die Machine at Factory Price

The pelletizing chamber temperatue of the industrial pellet mill is controlled at 90°C by utilizing aerodynamics technology, so that the machine can operate continuously.
There is a timing feeder to control the feeding amount in order to reduce material blockage.
The machine body of ring die pellet mill is more durable to use than those from many other suppliers because it is made from ductile iron.
It is driven by high precision gears.
Users do not have to stop the pellet machine to lubricate it.
This type of commercial pellet mill is controlled by PLC system, which makes it convenient to operate and saves labor cost.
The power consumption is 30% less than those from other manufacturers.
All the transmission parts of the pellet mill adopt high quality imported bearings and oil seals to guarantee high efficiency transmission, stability and low noise.
Build Biomass Pellet Production Line with Ring Die Pellet Machine
Biomass pellets are regarded as the potential biomass fuel that attracts global investors. Setting up a complete biomass pellet plant for wood pellet manufacturing business is definitely profitable endeavor. Here introduces the basic biomass pellets production process.
Raw Material Collection and Storage Screening
The first step of biomass pellet manufacturers is to collect biomass raw materials that are of good quality and has low impurity. The raw materials will be collected to raw materials storage area designed in the complete pellet mill plant, and the impurities in the raw materials should be picked out, such as iron wire, bark, sealing edge strip and other things affecting the quality of fuel. If you want to make high quality non-coking pellet fuel, collecting high quality raw materials is also very important.
The collected raw materials should be crushed. If the collected raw materials has been crushed before, this step can be omitted. The crushing of raw materials can improve pelletizing efficiency, reduce the cost, and reduce the possibility of raw materials being mixed with impurities.
In the process of biomass pellet fuel processing, the water requirements for raw materials are relatively strict, generally about 18%, too dry or too wet will affect the formation of pellets. Biomass materials with too much moisture needs to be dried, which will increase the cost of pellet manufacturing. So if you can collect dry materials, it is the best. Although the moisture of the raw materials is cheap, but will increase the processing and drying costs.
The processed materials with about 18% of moisture content will be loaded into the biomass pellet production machine. Pelletizing process is the core process of a biomass pellet manufacturing factory. So, choosing a suitable ring die pellet mill from a reliable supplier is particularly important.
Commercial Wood Pellet Production Plant Project Installation and Commissiong
Large pellet mill for Industrial or commercial production: HOT sale ring die pellet machine offered by biomass pellet mill manufacturer or supplier, guide on bio-fuel pellets production and how to start wood/sawdust pellet manufacturing business with limited cost in Tanzania, Egypt, Morocco, Ghana, South Korea, etc.

Pellets Cooling and Packaging
The finished pellet fuel is cooled and packaged. Experienced biomass pellet plant know that the temperature is high when the pellets just come out from pellet mill equipment, if the direct packaging in the cooling time, the pellets will absorb moisture in the air, resulting in increasing of moisture content, and the pellet will be loose and deformation. So, the produced pellets should be cooled and then packaged for sales.
Since establishment, biomass pellet machinery has been our core business and we has been focused on the research, development and manufacturing of sawdust pellet mill, straw pellets and other industrial and commercial biomass fuel pellet mill machinery. We not only provide customers with complete sets of equipment of biomass crushing, pulverizing, drying, pelletizing, cooling and packaging. Our professional installation team are all experienced engineers and the can provide thoughtful solutions based on various needs of customers.
With our ring die pellet mill, the production efficiency of your biomass pellet plant would be greatly improved, and the running cost and energy consumption will be reduced. Just contact us directly to get more technical information!