Manure fertilizer fermentation tank is researched and developed to ferment the animal manure for making manure pellet fertilizer, including chicken manure, pig poop, cow dung, cattle waste, horse manure etc.
With the principle of high temperature aerobic fermentation, the harmful matter in the animal manure can be removed, to make better manure pellet fertilizer for daily use or for sale.
Manure Fertilizer Fermentation Tank Features
Model
Conventional
Standard
Strengthen
Total height (including canopy)
8440mm
Effective volume
102 m³
Power supply
380V/50HZ
Installed power
43.5kw
46.9kw
59.5kw
Operating power
~26kw
~27kw
~32kw
Feeding drive device
Hydraulic drive 3kw
Spindle drive
Hydraulic drive 7.5kw
Manure Fertilizer Fermentation Tank Structure
The whole equipment structure is divided into three parts, the lower base part is distributed with wave pressure station, vortex air pump, oil cylinder, heating system and stirring shaft, etc.; the central part is a double-layer heat insulation tank, automatic control system, export device, etc.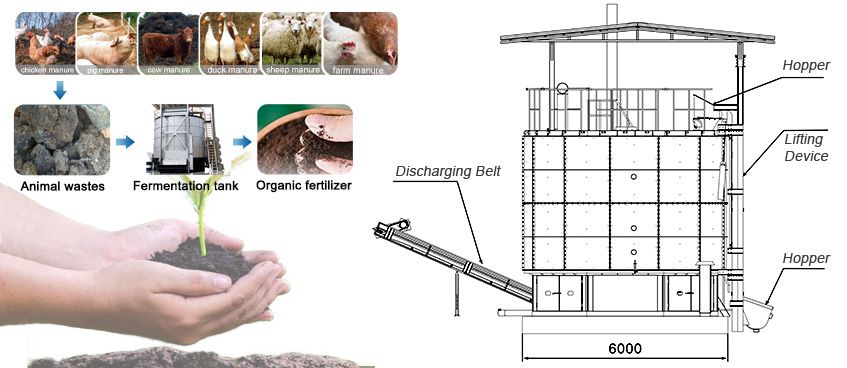 Structure of Manure Fermentation Tank
The inner wall of the tank is lined with 304 stainless steel plate, the middle has a polyurethane foam-filled insulation layer, and the outer wall is supported by thickened steel plate. The upper part of the tank body is composed of weather shed, testing platform and exhaust facilities and other devices. There are automatic bucket elevator, exhaust gas filtration and deodorization system and heat exchange system.

Advantages of Manure Fertilizer Fermentation Tank

Manure Fertilizer Fermentation Tank Supplier
The tank is fully enclosed, the fermentation process does not receive the influence of the natural environment, so that the production of organic fertilizer to work production standards, to prevent the leakage of waste gas generated by fermentation, to eliminate secondary pollution.

The interior of the tank body is made of polyurethane as a heat insulation layer, which is less affected by the outside world and ensures fermentation all year round.

Adopt hydraulic drive with large thrust to ensure full load of decomposing material in the tank and stable operation.

Self-developed patent, through the heat exchange processing system, so that the hot air in the tube air circulation fermentation, reduce energy consumption and improve energy utilization.

The inner wall of the tank body is all made of 304 imitation of stainless steel, with a long service life.

Using electrical control, automatic and manual double combination mode, easy to operate, simple to learn, save labor costs.

This equipment adopts vertical closed tank structure, which saves the area, can be installed outdoors wihtout needing a plant.
Video of Manure Fertilizer Fermentation Tank at Work
Here is to show you how the manure fertilizer emanation tank works.