Setting up an industrial pig feed pellet processing plant is a profitable investment. The establishment of a feed pellet making plant is a key link in the construction of a complete pig feed industry chain, and is also a necessary way to reduce breeding costs and realize a circular economy. (Related Post:Buy Factory Animal Feed Pellet Processing Machinery)

Profitable Investment: Setting up a Pig Feed Pellet Processing Plant
ABC Machinery is a strong brand company in animal feed pellet production in China! We offer Customized pig feed making machinery at reliable price. For more information, please feel free to contact us!

How To Design a Pig Feed Production Line for Commercial Purpose?
The construction of the commercial pig feed production plant mainly produces mash feed and pelleted feed. According to the pig feed formula and processing requirements of various raw materials, and advanced animal feed pellet production equipment are adopted to facilitate continuous operation and reduce production costs.
Pig Feed Pellet Production Processing Flow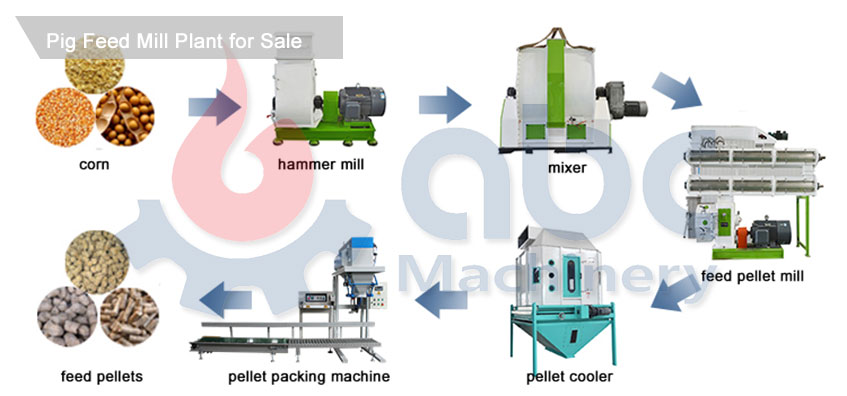 Cost-effective Pig Feed Pellet Production Processing Flow Chart
Raw Material Collection: Raw materials are the source of feed production, including maize, wheat bran, secondary meal, fish meal, soybean meal, etc.
Crushing: This process is an operation to reduce the feed pellet size and increase its specific surface area, which enhances animal's digestibility and improves the feed utilization rate, and also improves the processing quality and efficiency of the subsequent process steps such as batching, mixing and pelleting.
Mixing: Ingredients are added and mixed with micronutrients and premixes to form a complete feed mixture, also known as a formulated diet.
Pelleting: The batching pig food enter the animal feed pelleting equipment and are compressed into the appropriate size pellets by means of rollers and dies in the pelleting chamber.
Cooling: The cooling of feed pellets is essential in the feed pelleting process. When leaving the feed pelletizer, the feed pellets are very hot, soft and rich in moisture. The cooling process cools them to a temperature slightly above room temperature of 3°C - 5°C and reduces their moisture content to a safe standard (≤ 12.5%) for transport and storage.
Sieving: After cooling and drying, the resulting pig feed pellets or extrudates are sieved to remove fines and spillage and to bring the pellets to a satisfactory size.
Packaging: The automatic packaging machine consists of weighing each bag of feed, placing the weigh into the bag, closing the bag, labelling the bag, coding the bag, palletizing the bag and moving the bag to the warehouse for storage.
ABC Machinery is a professional manufacturer and supplier of pelletizing machinery with over 20 years of experience. We provide you with excellent production processes and engineering services based on the physiological characteristics, nutritional requirements and raw material properties of livestock and poultry (pig feed), combined with engineering and production experience. If you are interested in animal feed making machinery price and parameters, please contact us directly!

Pig Feed Pellet Production Equipment Layout Design


Ring Die Pig Feed Pellet Making Machinery for Industrial Use
All kinds of equipment required for pig feed production will be reasonably laid out and compactly arranged according to the plant structure. It is not only convenient for operation, maintenance and management, but also area-saving, practical and beautiful.
1. Different Lighting Design
Crushers, batching machines, mixers, granulators and other major production equipment are configured close to the windows, which is conducive to lighting and operation, bag filters, ventilators, cyclones and other equipment can be placed in poorly lit locations.
Equipment with heavy self-weight and vibration (e.g. crushers) are placed and isolated on the floor of the workshop or basement, which is conducive to soundproofing and fire prevention.
3. The Same Configuration of Machines on the Same Floor
In order to unify the operation and reduce the number of material lifts.
4. Design of the Dosing Sequence
The batching silos are set on the upper floor of the dosing equipment and the mixing equipment is configured on the lower floor of the dosing equipment, with a wide operating spacing to facilitate the addition of trace ingredients, spot checks and the cleaning of internal residues. In addition, the granulator is set on the upper level of the cooler and the hot and wet pellets from the granulator enter directly into the cooler.
Best Price Pig Feed Making Machinery Running Video in Nigeria
ABC Machinery offers you a more rational process for the pig feed pellets production and customized complete feed pellet lines. To be successful in purchasing a cost-effective pig feed pellet mill, you should have some information when buying a feed pellet making machinery online for your animal feed pellet production business. Feel free to contact us!