Project Name: 2~4 Ton/H Animal Feed Processing Plant

Country: Uzbekistan

Raw Materials: Wheat, maize (corn), rice bran, oil-seed-meals of sunflower seed and cotton seed, etc.

Main Feed Pellet Processing Section: Raw materials (mainly wheat and corn) - crushing - mixing - conveying - Pelletizing - Cooling - Packaging

Main Equipment: hammer mill, mixing machine, screw conveyor , ring die feed pellet making machine and packaging machine
Hot Sale 4 TPH Feed Pellet Production Line Plant Setup in Uzbekistan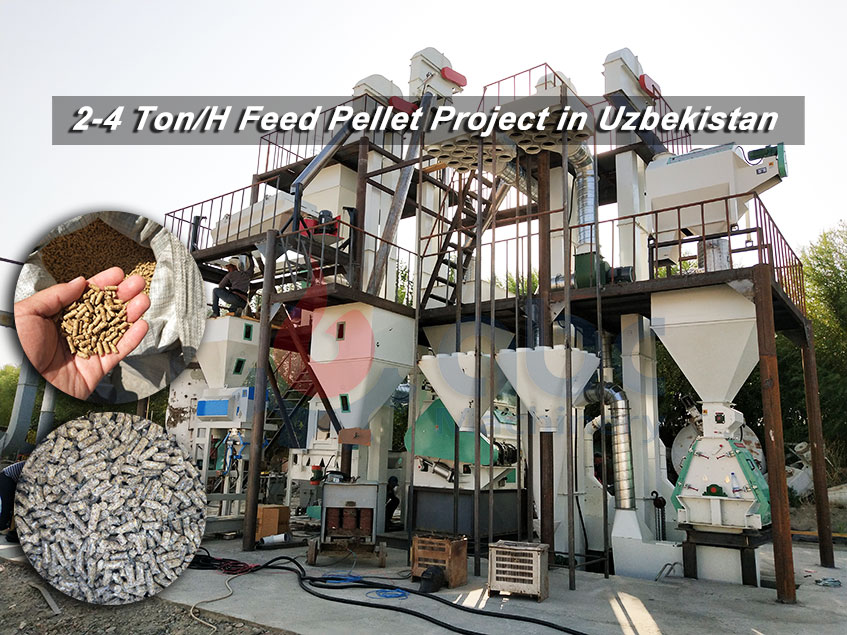 2-4tph Livestock Feed Processing Project in Uzbekistan
This Feed Pellet Production Line Plant was successfully installed in September 2018 and more suitable for small or medium feed pellet processing plants. Engineers and technicians oversaw the construction and installation process, and after two months of project execution and debugging, the small poultry and livestock feed mill in Uzbekistan was successfully completed. Since its launch, the feed mill has been operating smoothly, exceeding expectations and delivering consistent results.
The potential and profitability of animal feed manufacturing is increasingly being recognized, and many entrepreneurs in Uzbekistan are investing in small-scale feed processing plants. Among them, 2- 4 t/h poultry and livestock feed processing plants are a popular investment project.
If you are interested in Feed pellet processing and want to know the detailed cost of this project, please contact us to get the project report !

How To Setup a Wood Pellet Processing Plant?
As we all know, a poultry and livestock feed pellet processing plant is composed of a complex process, and if you intend to set up your own animal feed processing plant, it means that the feed pellet manufacturing process needs more than just a flat die or ring die feed pellet mill, it refers to a series of feed pellet production lines. In order to better complete the feed pellet manufacturing process, the installation of feed pellet equipment and the commissioning of each part need to be done carefully before starting the manufacturing process.
Photo Display of the Small Feed processing Plant in Uzbekistan
Main Process of Feed Pellets Processing Plant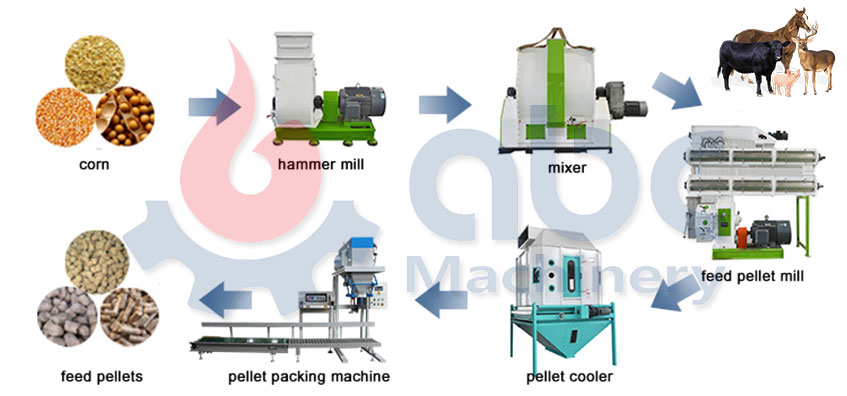 Complete Livestock Feed Line Flow Chart
The main process of a feed pellet processing plant involves several key steps.
The Cleaning section ensures high-quality feed products by using appropriate cleaning machines to remove impurities such as bad grains, stones, and mud from the raw fodder materials.
The crushing section commences the process of preparing the raw materials by crushing them separately before mixing. The crushing fineness is determined based on the intended use of the feed pellets, considering factors such as the type of animal being fed and its growth stage.
In the mixing section, the crushed feed ingredients are thoroughly mixed together, incorporating microelement additives and protein feed as required.
Step 4 Feed Pelletizing Process
The animal feed pellets are produced by compressing the mash feed into uniform pellets using an animal feed pellet mill, with the addition of steam during the process.
The feed pellets undergo cooling to room temperature and are then sieved and packaged in bags of desired sizes through the feed pellets cooling and bagging process.
ABC Machinery supports feed producers in Uzbekistan well with its high quality equipment and commitment to customer satisfaction. If you have any idea or interest in animal feed pellet processing, please feel free to contact us!