Recently, one unit of chicken feed making machine has been setup to Tanzania. Based on the requirement and condition of our customer, we customize him the feed pellet machine factory with the capacity of 2-3 TPH.
2-3TPH Chicken Feed Making Machine Plant Tanzania Details
| | |
| --- | --- |
| Project name | Chicken Feed Making Machine Plant |
| Project location | Tanzania |
| Production capacity | 2-3 TPH |
| Raw material | maize, soya, bran, oil cake, dry fish etc. |
| Necessary machinery | Crusher, mixer, ring die large pellet mill, cooler, crumble machine, vibration screen and auto packing machine. |
For more information about making feed pellets. Please click here>>

Why Setup Chicken Feed Making Machine Tanzania?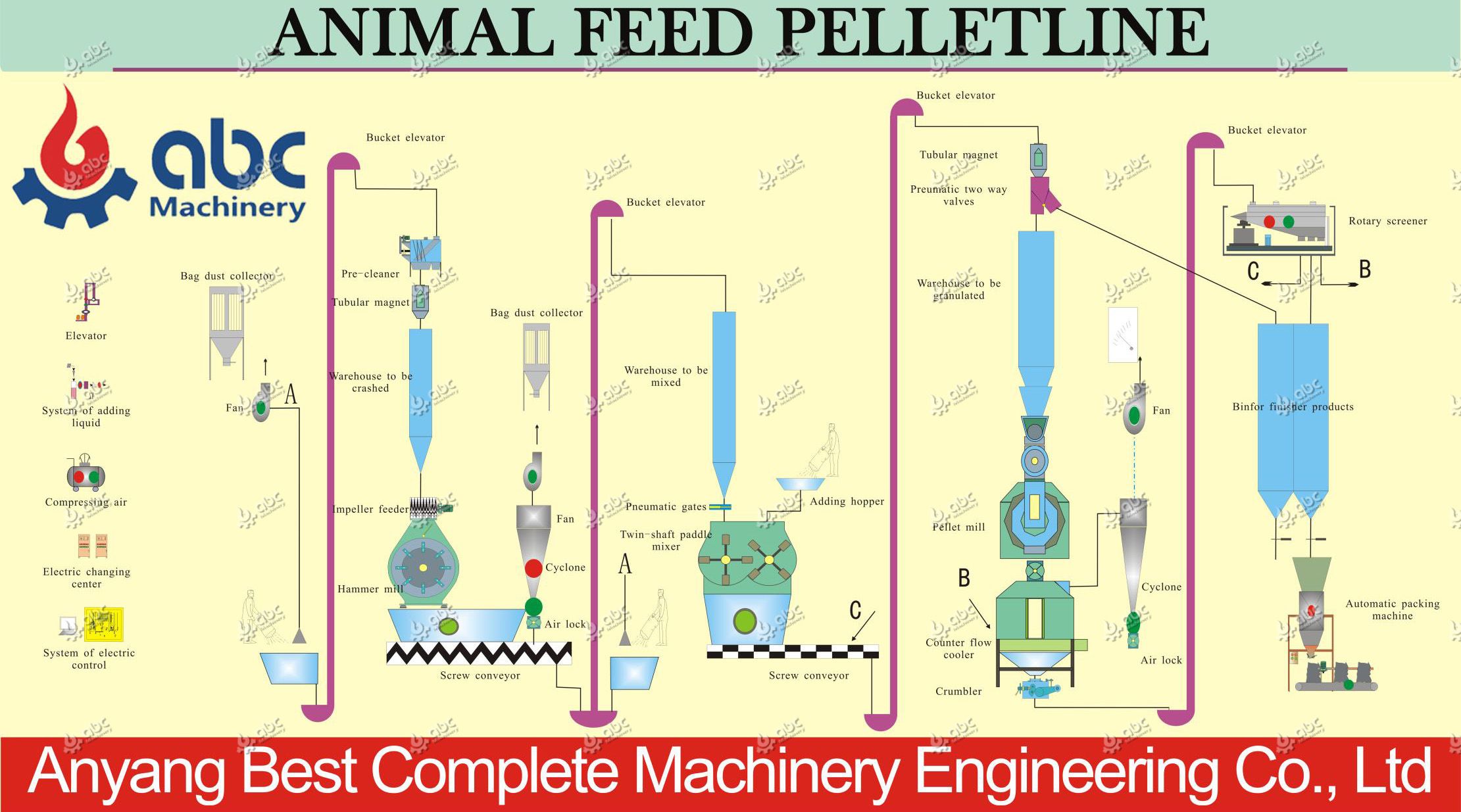 Animal Feed Pellet Production Process
Advantages of Chicken Feed Pellet Processing Machine
With chicken feed machine Tanzania, loose powder raw material is processed into high density pellets, easy to manage, taking up less space, thus reducing the transportation cost.

During the chicken feed production, you can add other additives which is necessary for chicken growth. Then, the final produced feed pellet has rich nutrition, good palatability, avoiding the chicken being picky.

Chicken feed making equipment setup is simple and easy, you can not only buy small scale chicken feed pellet making machine for self-use, but also you can process the chicken feed pellet for sale, even you can invest the chicken feed making line for profit. (Related article: small cattle feed plant project report)

Advantages of Our Chicken Feed Making Machine Tanzania
Changing the traditional pellets making machine structure design, the shell is increased with stiffeners, and the thickness of the casting is increased, thus greatly enhancing the strength of the machine and preventing the shell fracture of the feed pellet machine, thus saving the maintenance cost.

Large-diameter press rolls are used, which has large output, high granulation rate, uniform granules and high granule strength, meanwhile reducing the production cost.

Safe electronic control system, operating system in full compliance with CE standards, emergency stop button can quickly shut down the machine in an emergency. (Read more: making grass pellets for feed)
Video of 2-3TPH Chicken Feed Making Machine Setup Site Tanzania
With the efforts of all the staff, we soon finished the installation and debugging of this chicken feed pellet prodcution line.