Animals can have better and improved performance after feeding on pelleted feed compared to the mixed rations. Feed processing machine is designed to make small feed pellets of different types of solid grain. (Read more: Small Feed Pellet Machine Price >>)


Animal Feed Pellet Machine Business
Size of Feed Pellets: 2~10 mm
Application of Animal Feed Pellets: Chicken, Quails, Ducks, Geese and Other Livestock such as Cattle, Pigs, Goat and Rabbits, and etc.
Raw Materials for Animal Feed Pellet Production: Rice, Corn, Wheat Bran, Beans, Fish Meal, Oil Cake and etc.
Where to Buy Good Animal Feed Pellet Making Machine?
Feed pelleting machine is an essential feed processing equipment to make various feed pellets for different animals. The widely used animal feed pellet mill is flat die feed machine and ring die feed machine based on the output. (Related project: Napier Grasse Feed Pellet Mill Plant Project in Philippines >>)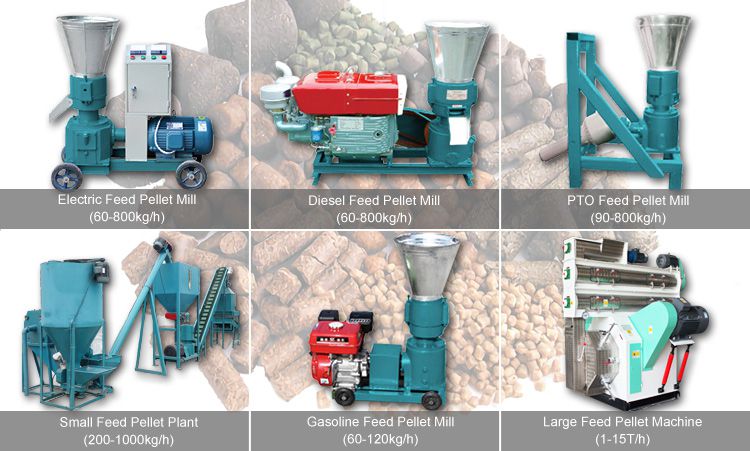 Buy High Quality Feed Pellet Mill from ABC Machinery
Generally, flat die feed mill is suitable for household, farm, mini or small scale feed pellet production. It is usually designed with electrical engine, diesel engine, PTO engine and gasoline engine. Small electric animal feed pellets machine is the most widely used in many poultry farms, livestock breeding farms or small scale feed pellet mill plant.

While, ring die pellet mill is more suitable for medium and large commercial feed processing plant. (Read more: Cattle Feed Plant Cost >>)
Mini/Small Electric Feed Pellet Mill at Factory Price
| Type | Capacity | Power | G.W. | Package size |
| --- | --- | --- | --- | --- |
| ZLSP 150B | 90-120kg/h | Three phase 4kw | 100kg | 800*350*740mm |
| ZLSP 200B | 200-300kg/h | Three phase 7.5kw | 204kg | 1050*480*990mm |
| ZLSP 230B | 300-400kg/h | Three phase 11kw | 218kg | 1180*520*1020mm |
| ZLSP 260B | 400-600kg/h | Three phase 15kw | 300kg | 1240*540*1070mm |
| ZLSP 300B | 600-800kg/h | Three phase 22kw | 437kg | 1300*560*1220mm |
| ZLSP 400B | 800-1000kg/h | Three phase 30kw | 700kg | 1700*750*1400mm |

ABC Machinery, one of the largest animal feed pellet mill manufacturers in China. We supply different types of feed pellet machine at wholesale cost for different production demands. After years of development, our equipment now has improved performance and has been exported to many countries.


Setup Feed Pellet Plant for Animal
And, we also have agencies in some countries. We are committed to providing the best possible service, the best quality and optimal price to return customers. Just massage us your specific requirements, we can offer your the BEST plan for your animal feed production business!
Small Animal Feed Pellet Machine for Sales
Small feed pellet mills are very welcomed in the market since it has many advantages, like cheap price, small size, easy operation, wide applications and more. In addition to the common features, the small feed pellet making machine offered by ABC Machinery also has below features: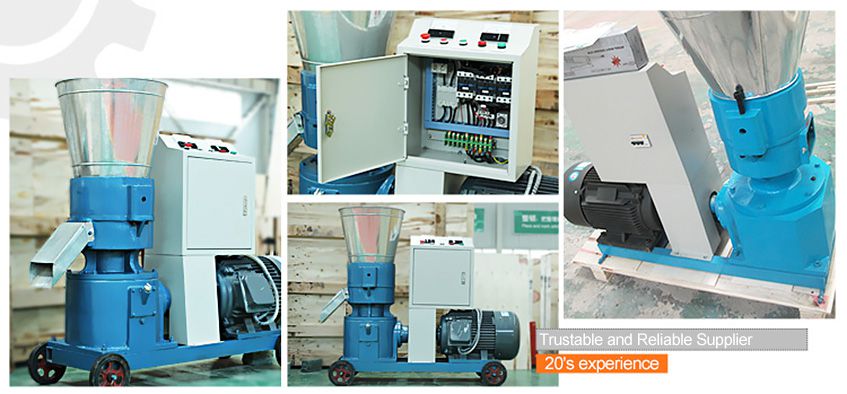 Small Feed Pellet Mill for Sales
The sealing design of the press roller and spindle bearing is fully closed. There are no pollution between the bearing and lubricating grease, which will benefit long bearing life and save the maintenance time.
The overall pressing roller is designed with three rollers to improve the working efficiency of pressing. And the material of the pressing roller is applicable to a wider range.
The material of the die plate is comprehensively upgraded, and alloy steel is forged and processed. After vacuum heat treatment, the material is wear-resistant, hard and long-lived.
The die hole in the die disc is processed by automatic CNC drilling, with high processing precision and good finish, which can improve machine productivity and reduce production cost.
Reducer adopts hypoid bevel gear, high transmission efficiency, stable transmission, high bearing capacity, reliable work, compact structure, energy saving, space saving, wear resistance, long life, low noise.

High Quality Feed Pellet Making Machine

Please note: Routine maintenance of the feed pellet machine improves operational efficiency and the quality of the pellets. Maintenance procedures include lubrication of bearings, replacement of wearing parts and the checking of oil levels in the gear boxes. In the end, it will help to reduce the cost of feed production.
Buy Small Feed Pellet Mill from ABC Machinery
Small feed pellet making supplier – factory price feed pellet mill for chicken cattle fish feed production: Buy feed pellet machine from animal feed processing machine manufacturer or supplier at factory price, get FREE technical instruction of animal feed pellet production process and business plan to set up small feed manufacturing project in Philippines, Uzbekistan, Lithuania, Nigeria, Tanzania, etc., at low cost.
Efficient Animal Feed Pellet Manufacturing Process - For Small Business or Farm Use
How to make animal feed pellets? Below is the main steps to make feed pellets. This animal feed pellet manfuacturing process is applicable in small animal feed processing plant for commercial business and also suitable to make feed for your own farms.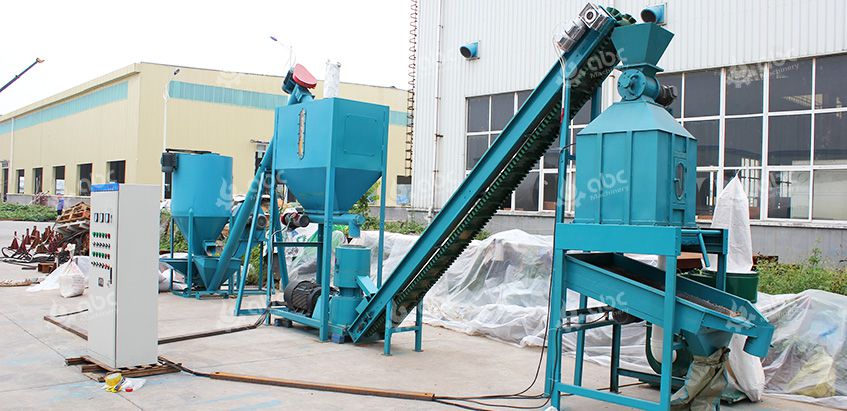 Low Cost Small Feed Pellet Mill Plant
Raw materials properly mixed according to the farmer's preference are fed into the pellet mill feeder which regulates the rate at which the raw materials are delivered to the pelleting equipment.
The mixed materials which should be dry at all times are blended together with steam in a chamber called the conditioner to make mash (wet mash).
The wet mash is sent by gravity to the next stage which is the pelleting chamber where it is pushed forward and conversion into various size and shapes ensues.
The hot pellets (feed pellets) drop by gravity to a cooling machine. Cooling of the hot feed pellets ensures they are hard and durable.
The screening machine is the next chamber where scalping of the feed pellets is done.
A successful small scale or large scale livestock and poultry feed manufacturing unit will solely depend on the availability and amount of quality feed available to the animals. This can be achieved through the use of animal feed pelleting machines. Many farms using feed pellet machine realize high profits at the end of a business year and income is assured all year round. Do not hesitate to buy a small animal feed pellet machine for a trial test, it is definitely valuable!