Models:STLP300/STLP400 Small Feed Pellet Plant

Production Capacity: 600~1000kg per hour.

Key Components: small hammer mill, small feed mixing machine, screw conveyor, storage silo, small feed pellet mill, feed pellet cooler, and feed pellet packaging machine.

Application: The small animal feed pellet line is an efficient and compact solution for mini animal production. It is designed to satisfy the demands of small-scale breeding farms, home feed manufacturing and those involved in feed production research and development.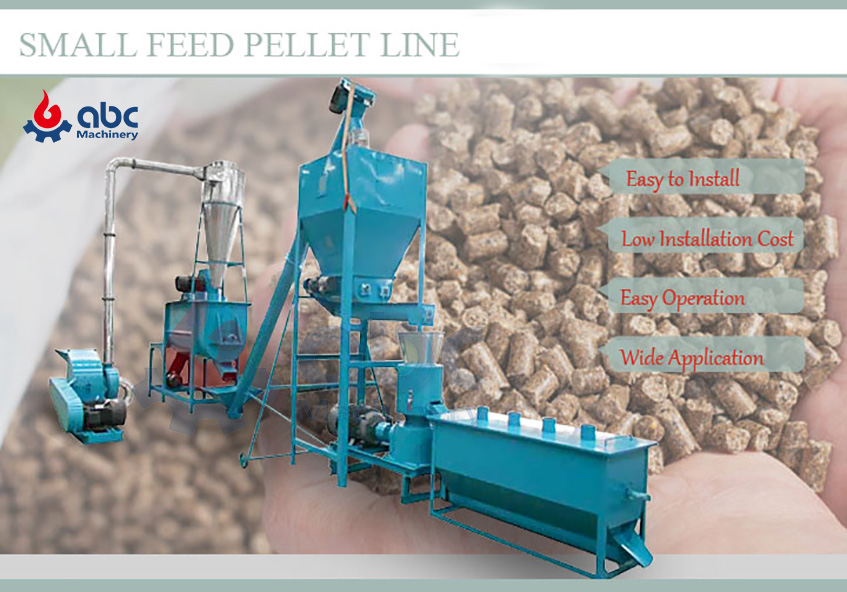 BEST Manufacturer — Offer Customized Small Feed Pellet Line at Factory Price
STLP Series Mini Animal Feed Pellet Line Parameters:

| Model | Power (Kw) | Capacity (kg/h) | Weight (kg) | Dimension (mm) |
| --- | --- | --- | --- | --- |
| STLP300 | 45.7 | 600-800 | 2464 | 15000*4000*4500 |
| STLP400 | 61.2 | 800-1000 | 2902 | 15000*4000*4500 |
If you are seeking an efficient and versatile solution for animal feed production, the STLP300/STLP400 small feed pellet plant is an ideal choice. Contact us for more information and to receive a detailed quotation tailored to your specific requirements.
How to Process Livestock / Poultry / Fish Feed with Small Feed Pellet Line?


Customized Mini Feed Pellet Line Process Design

Raw Materials Crushing and Mixing Process
Starting with raw material intake, the facility receives and stores grains, oilseeds, and by-products required for feed production. The raw materials then undergo a grinding process to achieve the desired particle size. Next, they are thoroughly mixed to ensure a balanced distribution of nutrients.


High-quality Feed Pellets Grinding & Mixing Machine
Feed Pellet-making Process
Pelletizing is a crucial step where the mixed feed ingredients are compressed and shaped into pellets. This is achieved using a pellet mill equipped with a die and rollers, which apply heat and pressure to bind the ingredients together. After the pellets are formed, they are cooled down to room temperature using a pellet cooler, making them firm and stable.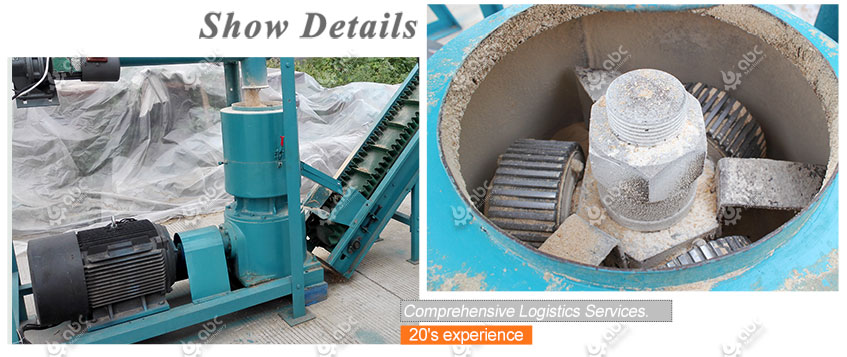 Hot Sale Flat Die Feed Pellet Production Machine
The cooled pellets are screened to remove fines and ensure consistent size, and then they are ready for packaging.


2 Types Cooling Machine in Feed Pellet Line
The final step involves packaging the pellets in bags or other containers, making them convenient for storage, transportation, and sale.


Feed Pellets Packing Machine
Advantages of our small-scale feed pellet production line
Diverse pellet diameters: Our production line produces pellets with a diameter ranging from 2 to 8 millimeters, allowing for flexible customization to meet the specific needs of various animals such as geese, ducks, chickens, rabbits, sheep, cattle, pigs, fish, and more.

Versatile application: Our feed pellet production line is suitable for producing feed pellets for a wide range of poultry, livestock, and animals. You can confidently produce feed for different species, ensuring that their nutritional requirements are met.

Low investment and operating costs: Our compact design minimizes space requirements and installation costs. With simple connections, the machine can be put into operation. Additionally, the continuous production allows for convenient operation. Only 1-2 workers are required during the production process, reducing labor costs and maximizing profits.
By choosing our small-scale feed pellet production line, you benefit from a customizable capacity, versatile pellet diameters, broad application possibilities, premium quality equipment, low investment and operating costs, easy installation and operation, and expert support. ABC Machinery is committed to helping you establish a successful and efficient animal feed production business. Contact us for more details and a detailed quotation.
Successful Small Animal Feed Pellet Lines at ABC Machinery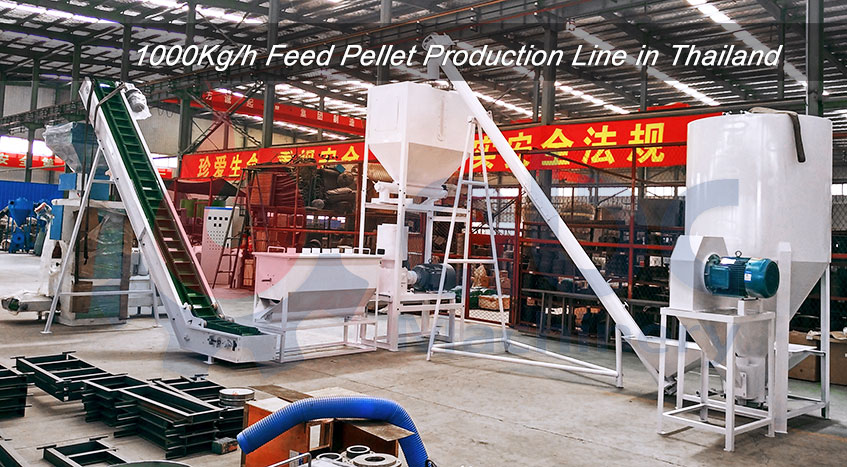 1000Kg/H Feed Pellet Plant in Thailand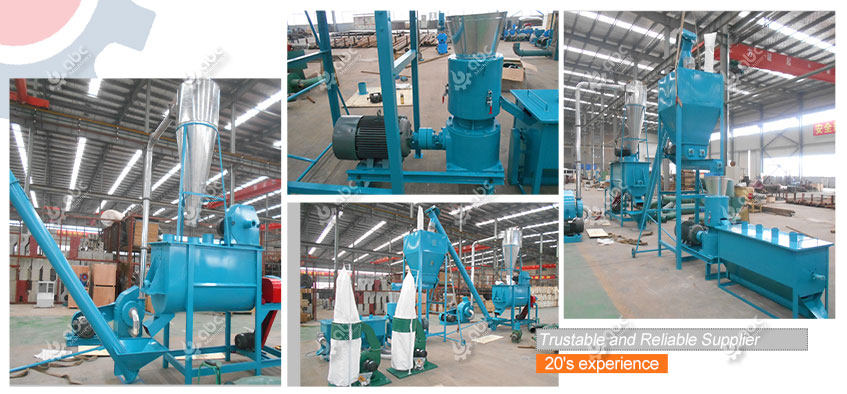 Establishing a Cattle and Sheep Feed Pellet Line in Kuwait
[Contact Us to Get Customized Business Proposal on Feed Pellets Production]
Kindly click here to check the different scale feed pellet equipment we have >>
Video of Running Small Feed Pellet Production Line
If you are planning to start your animal feed pellet business or build your own feed pellets mill company in Ghana , Zambia , Kenya , Uganda , Mali or other countries, but don't know where to begin, what types of feed pellet making machine to choose, how to design the feed pellet process, contact us now to get professional suggestion!