Small pellet production line is a combination of biomass crushing, conveying, drying, pelletizing and cooling parts.
All the equipments may include
hammer mill/crusher, conveyor, dryer, small pellet mill, pellet cooler,
etc. Not all of them are necessary; customer can choose according to your specific needs.
Small Pellet Line Capacity:

200-800kg/h
Applicable raw materials:
almost all kinds of biomass, such as wood, straw, stalk, peanut shell, rice husk, bamboo shaving, chicken manure, grass, alfalfa, etc.
Pictures of small pellet lines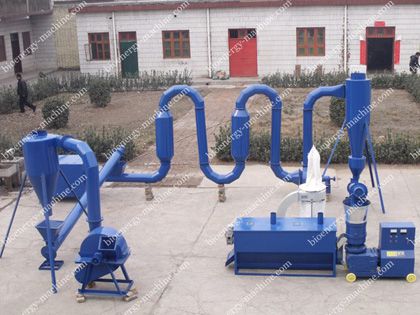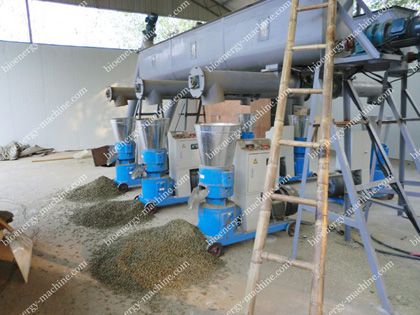 Small pellet production line details:
Hammer mill/crusher: used to decrease the size of raw material. Most raw materials, such as straw, alfalfa, wood, etc. shall be pulverized first till their size is reduced to 3-5mm. Otherwise, they will easily block the pellet mill and decrease pellet forming rate;
Conveyor: used to convey the materials between 2 processing equipments. Conveyors guarantee evenly material transmission and saves man labor;
Dryer: it is highly efficient in decreasing raw material moisture content, which also contributes to pellet forming rate increase as well as pellet quality improvement;
Pellet cooler: used to cool down the pellets, and increase pellets hardness.
Why do you need a small pellet line?
You may have a farm, have regular supply of waste biomass and want to make use of them; or you want to make animal feed and require not only a single small pellet mill, but also crushing or drying equipments.
The small pellet line can save you labor cost and does not delay your pellets production. It is quite convenient for you to make your own pellets.
You can choose either electric pellet mill, diesel pellet mill or PTO pellet mill. The hammer mill/crusher can also be driven by diesel engine.