Dryer is a necessary part for pellet or briquette manufacturing investors who have raw materials with high moisture content (>18%). Usually small scale pellet production or biomass briquette production needs airflow dryer, while large scale pellet production needs rotary drum dryer.
Airflow dryer
It can decrease the moisture content of raw material from 20-25% to 8-12% with a hot air boiler. If the moisture content is much higher than 25%, it may be dried for 2 or 3 times.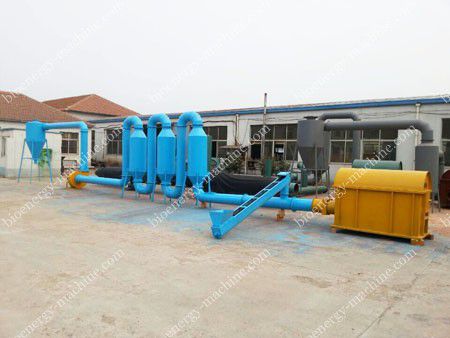 Model
HWA-DL-4
HWA- DL -7.5
HWA-QL-11
HWA-QL-15
Capacity(Kg/hour)
200-250KG
400-500KG
500-700KG
800-1000KG
Size of Input Material
(Diameter)
< 3mm & < 5mm
< 3mm & < 5mm
< 3mm & < 5mm
< 3mm & < 5mm
Temperature of Hot Air
150°C~220°C
185°C~220°C
150°C~220°C
150°C~220°C
Consumption of Wood Waste for heating the dryer
50-65 kg/h
60-75kg/h
65-90kg/h
100-120kg/h
Power
(Centrifugal Fan)
4kw
7.5kw
11kw
15kw
Net/Gross Weight
1760kg
2100kg
2400kg
2600kg
Dimension(m)
9×2×3.3m
13×2×3.3m
16×2×3.3m
17×2×3.3m
Rotary drum dryer
A three cylinder drum dryer is build by 3 concentric cylinder, combining together according to some mathematical structure. By applying the heat-work principle, the lifting flights mounted on the inner wall and the feed guiding plates have been sophisticatedly designed. The wet material is moving in a spiral way by gravity, keeping staying for a longer time inside the dryer, enhancing the heat exchange with hot air by fully spreading. In the special designed three cylinder structure, the inner and middle cylinders are wrapped by the outer, forming a heat insulation system. The heat emitted by the inner and middle cylinders is again functioning in the heat exchange for material in the outer cylinder. The three cylinder rotary dryer therefore realizes in decreasing the heat loss and increasing the heat exchange efficiency.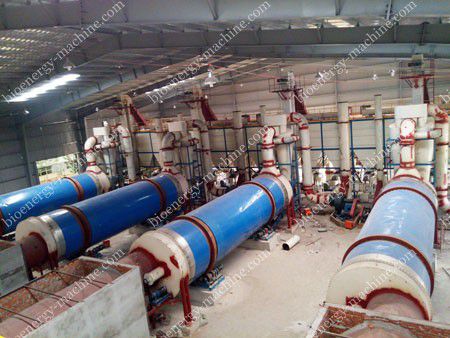 | | | | | | | |
| --- | --- | --- | --- | --- | --- | --- |
| Model | WHR-Φ0.8×10m | WHR-φ1.2×10m | HWR-φ1.5×11m | WHR-φ1.8×11m | HWR-φ1.8×14m | HWR-Φ2.0×15m |
| Air fan power | 15kw | 22kw | 30kw | 45kw | 45kw | 45kw |
| Inner diameter | 800mm | 1200mm | 1500mm | 1800mm | 1800mm | 2000mm |
| Length | 10m | 10m | 11m | 11m | 14m | 15m |
| Temperature of inlet air | 180-350℃ | 180-350℃ | 180-350℃ | 180-350℃ | 180-350℃ | 180-350℃ |
| Temperature of outlet air | 90-100℃ | 90-100℃ | 90-100℃ | 90-100℃ | 90-100℃ | 90-100℃ |