Screw biomass briquetting machine is the earliest invented briquette machine that can make waste biomass materials into hollow fuel briquettes. The GCBC series screw briquetting machine is the latest model developed by ABC Machinery over 6 years of R&D. Because of their hollow structure and carbonized layer, the biomass briquettes manufactured by screw briquetting machine are welcomed in India, Thailand, Malaysia and African countries. The briquettes can further be carbonized into charcoal briquettes.
Raw material for biomass briquetting machines for sale:
Almost all kinds of wood waste, like sawdust, wood shaving, etc.; agricultural waste, like peanut shell, coconut shell, palm fiber, stalk, rice husk, and so on.
Specifications
Model
GCBC- I
GCBC-IIA
GCBC-II
Input Raw Material Size (mm)
3-5mm
Output Capacity (kg/h)
180-210
300-500
300~350
Shapes of Briquettes
Φ=40mm, 50mm, 60mm, 70mm
Motor Power (kw)
15kw, 380v, 6 Grades
18.5kw, 360v, 6 Grades
22 kW
Heating Range
280~350℃
Size of Briquettes Inside Hole
Dia.16mm
Dia.16mm
Dia.18mm/16mm
Density of Briquettes
1.3T/m³
Weight (kg)
700kg
800kg
780 kg
Overall Dimension(mm)
2700*600*1600 mm
2000*600*1700
1500*1200*1600mm
Pictures of biomass briquetting machine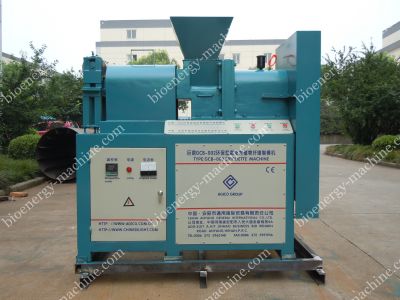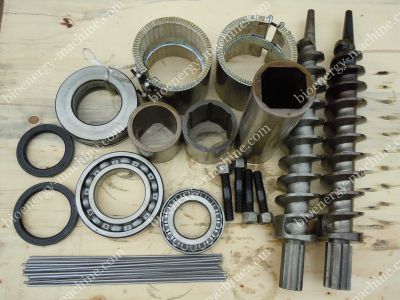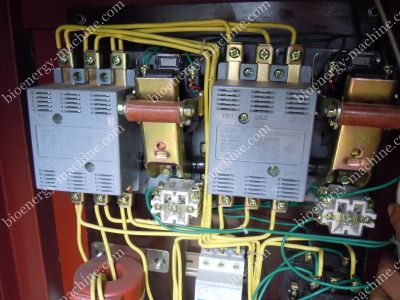 Briquettes this type screw briquetting machine make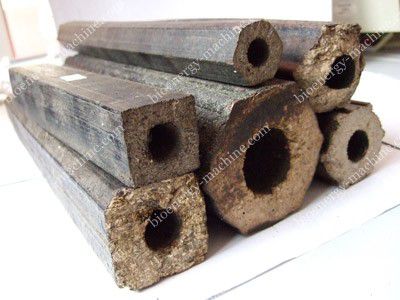 Biomass Briquettes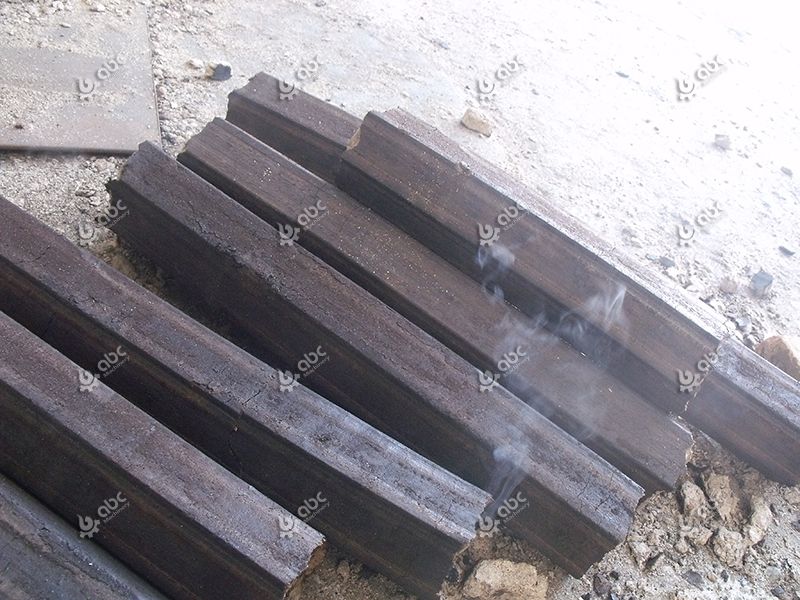 Charcoal Briquettes
Learn about how to make charcoal briquettes>>
Advantages of GCBC series screw briquetting machines
GCBC series briquetting machines have long service life screw shaft that is made from high hardness alloy steel. The advanced processing equipment ensures the srew shafts with no errors.
The inner former of this machine can be used for 1-2 years. It is made from a whole steel bar with the processing of water jet cutting system; as a result its inner surface is smooth, so that the briquettes are more easily made and saves energy.
The heating section adopts 2 heat collars that are made from thick copper wires and ceramic inside.
The forming hopper is added a movable plate at the bottom, so that users can clean it easily and discharge the input material when jammed.
There is a lubricating system for the gear box. Besides, to make sure the gear box is lubricated properly, there is an exhaust function to maintain consistent air pressure.
Auto cutting system: with this system, the briquettes can be automatically cut into uniformed length.