At the beginning of 2019, on customer from Thailand brought six sets of biomass briquette press from us. He is a friend of our customer who have been buying briquette machine from us to make biomass briquettes from rice husk and bagasse. Through his introduction, the new customer directly ordered six sets of equipment without too much negotiation. He is totally assured about the quality and price of our equipment and place the order without hesitation!


Biomass Briquetting Machine for Sales
2TPH Punching Briquette Machine to Process Rice Husk and Bagasse
Below is the main information about this order. If you are also planning to start briquetting business from rice husk or bagasse, you can take it as a reference. In addition to Thailand, we also have built many
biomass briquetting plant
around the world, including Pakistan, UK, Chile, Canada, Australia, Uganda, Indonesia, Philipppines, etc. (Read more:
How to Make Briquettes from Sawdust?
)
Equipment: Punching Briquette Machine
Capacity: 2T/H
Quantity: 6 Sets
Raw Materials: Rice Husk and Bagasse
Final Product: 22mm briquettes
Purpose: Make Biomass Fuel for Sales
Please look at the pictures of onsite delivery of the six sets of rice husk briquette machine. If you have any questions about our biomass briquetting, like briquette making process, machine price, please just feel free to contact us to get the latest quotation!
Rice Husk Briquette Machine Technical Parameters
| | |
| --- | --- |
| Model | GC-MBP-2000C |
| Capacity | 1.2~1.5Ton/Hour (different biomass materials have different output) |
| Density | 0.8~1.2Ton/m3 |
| Briquettes Diameter | 22mm, 38mm, 90mm, 100mm |
| Power of main engine | 55KW |
| Weight | 8000kg |
| Overall Dimension | 3300x1500x1460 mm |
| Raw Material Moisture Content | Less than 20% |
| Working Conditions | 380V 50HZ (temperaturer: -15℃~40℃) |

Rice Husk Briquetting - Good Opportunity to Start Briquetting Business in Thailand
Thailand uses a large area for rice cultivation. It is because its people consume a great amount of rice as a supple food and it exports rice with various countries as well. Thailand is considered the world's second-largest rice exporter. As Thailand produces rice in a rich amount, it favors the rice husk briquetting industry in Thailand in several ways, which also provides the priority to start briquetting business in Thailand. Rice husk briquetting industry in Thailand is very famous and expert in producing briquettes of good quality. It is because large amounts of rice industry waste (rice husk) are easily available in Thailand which they utilize wisely to keep their country's pollution under control and get cheap energy sources in return. Most of the population of Thailand lives in rural areas so usage of rice husk briquettes is expanding in households as well. People living in rural areas of Thailand use this inexpensive source of energy for cooking and heating purposes.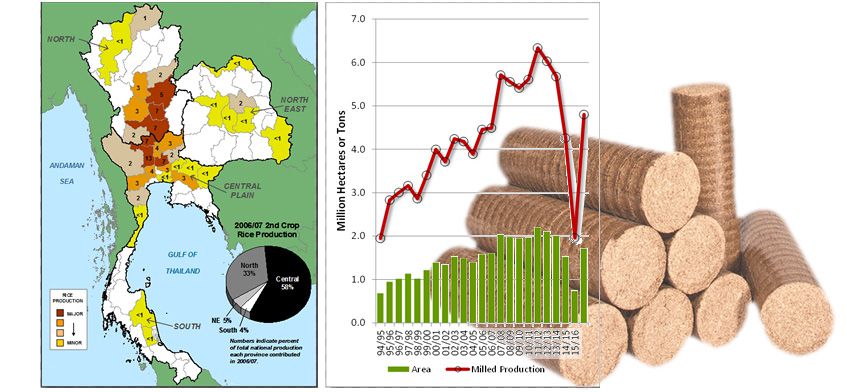 Start Rice Husk Briquetting Business in Thailan
If you are going to make briquettes from rice husk or bagasse, either for your own use or business purposes, it is necessary to get an efficient briequette machine that not only has good quality, but also has the favorable price. ABC Machinery would like to provide Free guidance on the selection of rice husk briquette machine and provide professional technical supports.
Rice husk briquette machines that are used in briquetting plants are energy-saving machines. These environment-friendly machines produce energy-efficient briquettes that not only keep the environment clean but also cost very less. Rice husk used in these machines has a large amount of silica in it. To keep machines protected for lifelong usage, special wear parts are used in them.Rice husk briquetting industry in Thailand is largely expanding due to more demand for rice husk briquettes. They are providing briquettes of standard quality at very economical prices. These energy-saving briquettes are provided to be used in households, restaurants, schools, and various other industries. As, now, people are preferring rice husk briquettes over other fuels, chances are the rice husk briquette industry in Thailand will expand even more in the near future.

Rice Husk Briquette Machine Working Video
Prominent Advantages of Rice Husk and Bagasse Briquettes
Production of briquettes by using rice husk and bagasse in Thailand has become greater than before as compared to previous years. It is because now people have become more aware of its advantages. Some of it's worth mentioning advantages are:
Briquettes produced from rice husks and biogases have very low moisture levels and are very dense which raises their burning efficiency greatly. Rice husk briquettes burn slower than the loose rice husk which further adds value to its usage. Rice husk briquettes also have high thermal power and produce more heat energy than the heat energy of several other fuels.
Thailand produces a great amount of rice every year due to which it is known for its rice exports worldwide. Due to this large production of rice, a lot of rice husk is produced every year. Instead of wasting this rice husk, people use this cheap waste to produce briquettes. It makes rice husk briquettes, produced through rice husk briquette machines, a very cheap and cost-effective energy source. Also, rice husk and biogas both are easily available natural resources in Thailand which makes them very economical resources for briquette production in Thailand.
In Thailand, rice husk biomass is very easily accessible doe to which rice husk briquette production has become even more favorable in this country. Rice husk briquette plants take full advantage of its availability and produce huge amounts of briquettes for domestic and commercial use.
Renewable and Eco-Friendly Energy Source
Rice husk briquettes are created from renewable material (rice husk and biogas) and do not produce smoke. It is completely natural as there is no chemical used in its production (binder less technique). Burning other fuels produces ash, harmful gases, and soot but the same can't be said about rice husk briquettes.
Due to its light-weight, rice husk briquettes are very easily transported which saves the cost of transportation as well. They can easily transported to far areas without much trouble.