Briquetting Project Introduction
From Nov. 11th to Dec. 25th, ABC engineers helped the client build a 1T/h briquetting plant project in Karachi, Pakistan. The client has sawdust as raw material, and he would make the sawdust briquettes into charcoal briquettes by the assistance of carbonization kiln, so that he can export the charcoal briquettes to other countries.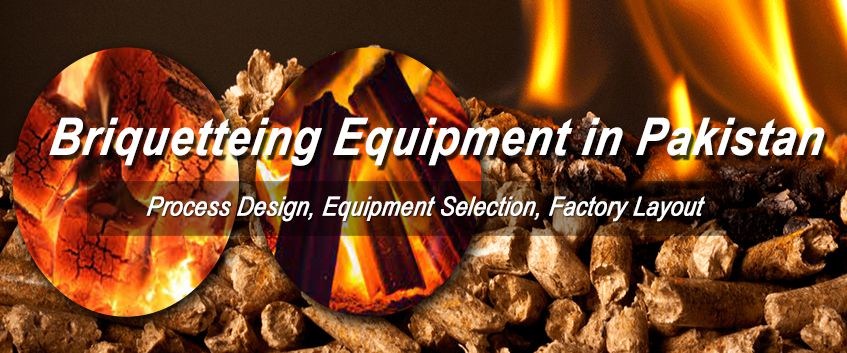 1T/H Charcoal Briquetting Plant Project in Pakistan
As in the case of this customer from the Pakistan project, he uses local sawdust as raw material, and makes smokeless charcoal briquettes overseas. This was the first charcoal briquetting plant he had set up in Pakistan. Soon he will purchase another 3T/h briquetting plant project at ABC Machinery. Due to the many advantages of the charcoal briquetting process such as energy efficiency, safety and reliability, short cycle time, high quality and low cost, an increasing number of investors are planning to start their own charcoal briquetting plant business.If you would like to know more details about charcoal briquetting plants and get a business plan for setting up a charcoal briquetting plant, please feel free to contact us!

Details of Sawdust Briquetting Plant Technical Process & Equipment
This factory price sawdust briquetting plant includes drying system, 3 pcs of briquette machines and kilns. It helps our costumer make sawdust into charcoal briquettes all in his factory.
The following processes are the complete technical process for the production of sawdust briquettes, but not all procedures are required in actual production. The exact biomass sawdust briquetting production process is strictly designed in relation to the requirements of biomass briquetting, investment costs and production capacity.

1. Drying system
As the moisture content of the raw material should be in the range of 8%-12%, a drying plant is required to dry the raw material evenly before the briquetting equipment to achieve a one-off drying effect on the raw material.
Uses our most popular model dryer for briquette plant - Rotary Drier GC-DR-1100, which has been sold to more than 30 countries, dealing with the raw materials moisture from 15-55%.
2. Briquetting system
Charcoal briquette process is the most important step in the biomass briquette production line. There are small scale charcoal briquetting plants as well as large scale charcoal briquetting plants in ABC Machinery. If you would like more details and prices for your plant, please contact us!ABC Machinery will customize a charcoal briquetting line exclusively for you according to your factory design.
Briquetting machine uses our most advantageous model - GCBC-II, the best briquette machine in China, which can make the density of briquettes to more than 1.4kg/m3.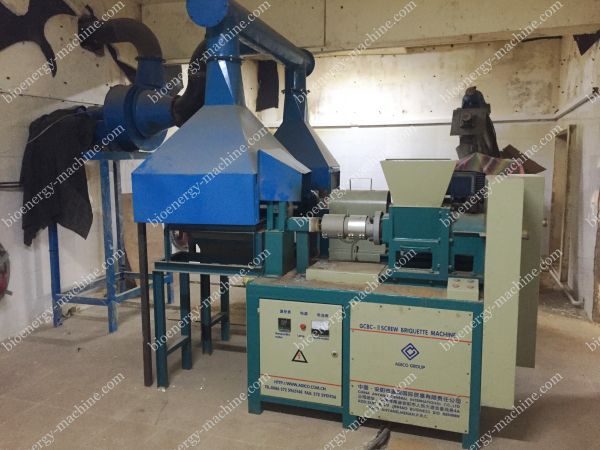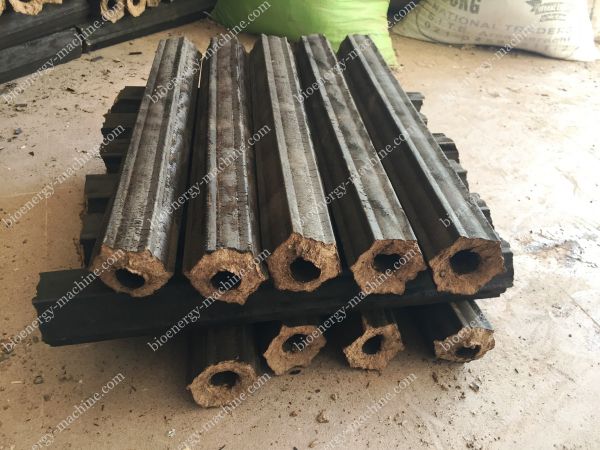 3. Carbonizing system
About the kilns, we provide our latest technology. One is with a set of rain way, one cart, and a chimney.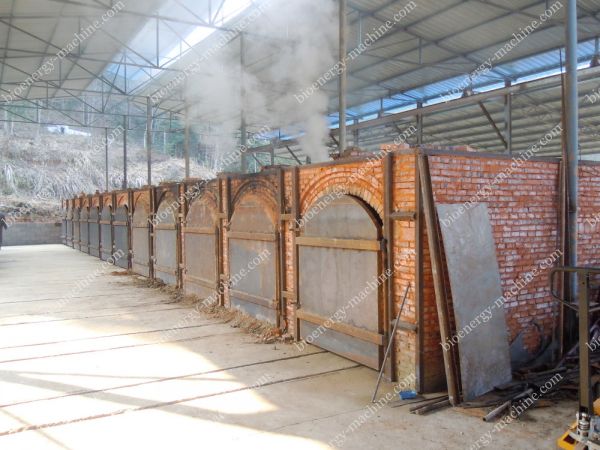 What Are the Benefits of Making Charcoal Briquettes?
Machine-made charcoal briquettes, also known as man-made charcoal, recycled charcoal, smoke-free charcoal, is a kind of charcoal briquettes that made from waste wood chips, sawdust and other waste biomass raw materials

Raw material range
Waste wood, sawdust, rice husks, peanut shells, cotton shells, corn cobs, corn stalks, sorghum rods, bamboo, coconut shell, etc.

Applications
For food and beverage purposes: BBQ, grilling, etc.
For industrial purpose: used for the production of carbon disulfide and steel smelting.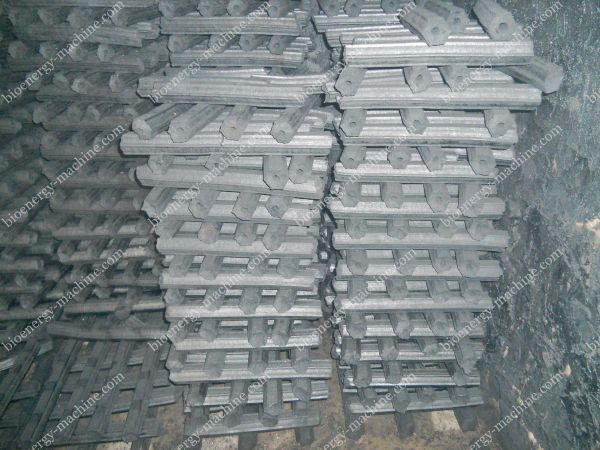 Advantages
High density, high calorific value, smokeless, tasteless, pollution-free, non-explosive, flammable, is internationally recognized as a green product.
Video of 1T/h Screw Briquetting Plant in Pakistan
Why machine-made charcoal briquettes are superior to raw charcoal?
Environmental friendly: No need to cut down trees, only use waste turning waste or refuse of wood or other raw materials. Briquetting machine turns waste into treasure. Machine-made charcoal briquettes do not contain toxic or smelly chemicals, do not pollute the environment. As to the production of ordinary charcoal, you need to cut down trees, destroy the ecological environment.
High-energy: machine-made charcoal briquettes has a fixed carbon content of about 80%, and calorific value 7500-8000kcal/kg; while the raw charcoal fixed carbon content is low, the calorific value is only 6500kcal/kg.
Clean and hygienic: smokeless, no spark burning, natural falling ash rather than floating up, ash residue is about 3% or 6% after burning.
Unique shape, rational structure, convenient to use: machine-made charcoal briquettes have uniform length and size; the hollow or solid core structure makes them easy to combust and use.
Low moisture content of <5%. Raw charcoal has much higher moisture content.
Charcoal briquetting equipment is a new type of equipment that can recycle waste, and ABC Machinery has always made quality the goal of moving forward to meet the needs of users with better quality, so that there is no waste. Therefore, investing in a charcoal briquetting plant is a very reliable business.
To learn more about our business plan, please do not hesitate to contact us!
Want to have the TURN-KEY Business Plan of charcoal briquetting plant? Send us enquiry now!