Manure is a major byproduct of agricultural activities. Most agricultural economies rely on livestock and poultry, and it results in a lot of fecal matter. Manure, which is organic wastage, comes from cows, buffaloes, rabbits, horses, pig, chicken and poultry. If not treated separately, it can be hazardous to the environment. However, many people don't realize that manure can be a valuable, recyclable product, and simultaneously be good for the environment. (You may also like: Cattle Feed Manufacturing Plant >>)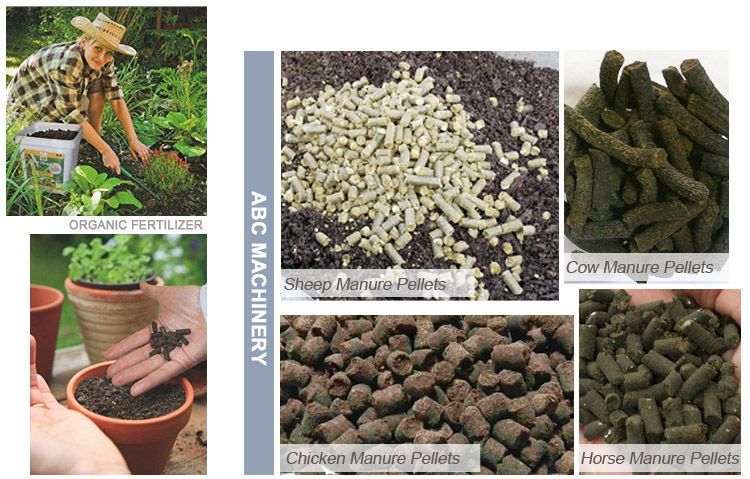 Make Animal Manure into Biofule Pellets
Many people know animal manure, like chicken or cow dung, can be used as fertilizer by fertilizer pellet making machine, but most don't know that it can be turned into useful fuel through pelletizing or briquetting technology. Making chicken or cow dung manure into pellets or briquettes can not only solve the difficult issue of dealing with poultry litter, chicken droppings or cow dung, but also can help to setup your own business to make money by investing on biomass pellet plant or briquetting plant. (Read more: How to Start a Charcoal Business?)
How to Make Chicken/Cow Dung Manure into Pellets or Briquettes?
Farms are wondering how to make useful pellets/briquettes from the waster manure. Actually, it is simple and easy, but should adopt professional equipment for this. The chicken/cow dung briquetting process is almost similar with the chicken manure pellet making process, except the manure is later compressed into brick or block shaped constructions. The typical steps to process manure into pellets/briquette includes:

Make Pellet Briquette Flow Chart
Drying Manure – Most manure comes from dairy and poultry contains a large amount of water, so drying the chicken manure or cow dung first is necessary. Different dryers are suitable different production capacity.
Crushing Manure – Crushing the chicken manure or cow dung into small pieces is to make them better enter the pellet mill machine or briquetting machine.
Pelletizing/Briquetting – Processed manure is loaded into corresponding equipment to make pellets or briquettes.
Cooling Pellets – The preceding processes involve a lot of heat. The next step is cooling down of the pellets.
Please note: When the manure has finally been converted into pellets, it can be used either as fuel or fertilizer; And the compressed fuel blocks which could further burn in any machine.

Manure Pellets/Briquettes Making Machine for Sale

Small Manure Processing Machine for Sales
ABC Machinery serves to provide customers the most cost-effective equipment to help them efficiently deal with the poultry litter. Our chicken manure pellet machine and chicken droppings briquette making machine are also suitable for cow dung and horse dung. If you want to know the price of chicken manure or cow dung pellet machine or briquette machine, please don't hesitate to contact us for PRICE LIST!
Make Chicken Manure Pellets by Your Own
Make chicken manure or cow dung into fuel pellets/briquettes – buy high quality manure pellet/briquettes machine for biofuel making business: HOT Sale chicken manure cow dung pellet and briquette machines offered by pellet and briquette machines manufacturer or supplier - guide on process of make chicken manure cow dung into fuel pellets briquettes production and how to start chicken manure and cow dung pellet or briquette business with limited cost in Tanzania, Egypt, Morocco, Ghana, South Korea, etc.
Business Opportunity of Making Manure Pellet or Briquette
Manure Pellet Briquette Machine Manufacturer
Make Cow dung pellets, chicken dung pellets, and dung briquettes are superior and greener fuel alternatives to coal and petroleum. It is practiced that the combustion efficiency of pellets and briquettes can be up to 1.5 times to that of coal, thus effectively reducing the daily fuel cost.
Building manure pellet or briquette production line has high commercial value. The farmer can make manure fuel for sale to get extra income; the investors can invest the fuel machine plant to get higher returns.
Bright prospect in energy field. Energy produced from biomass is making a big impact throughout the world. World's largest biomass plant in the Netherlands, which runs on animal manure for processing fuel, has now launched a project with the cow dung as raw material for making fuel which would power about 1100 homes. Whether you make manure pellet or briquette for sale, or you would like to setup plant, it is suitable. (Read more: fuel briquette machine)