Project Name: 1TPH Wood Pellet Production Line
Production Output: 1 ton per hour
Project Location:Bangkok, Thailand
Raw Materials: Wood blocks, wood shavings and sawdust (local wood)
Included Machinery: Wood Chipping Machine, Hammer Mill, Pellet Machine (BPM420 ring die pellet), Pellets Cooler, Pellet Packing Machine, etc.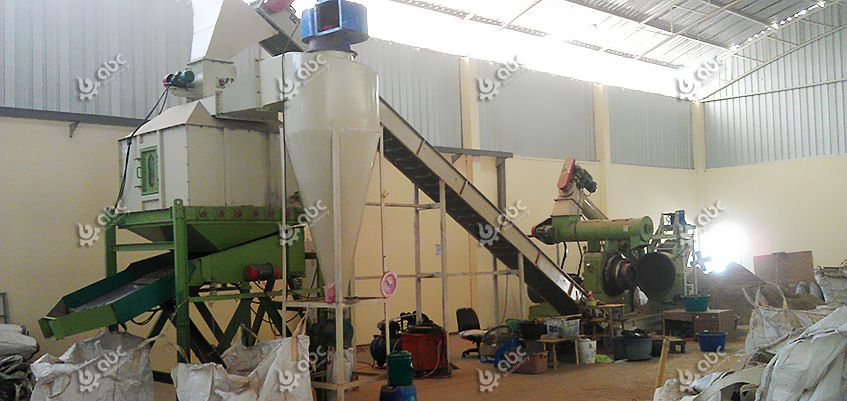 1TPH Wood Pellet Production Line in Thailand
ABC machinery provides you with a more reasonable biomass pellet production process, and requires less operating personnel.And for the same productivity, we have lower power consumption and shorter time to get return on investment. Most importantly, the core parts of our wood pellet equipment are more durable, stable and can produce more pellets.
Complete Steps of Wood Pellet Processing Line
Wood Pellets Making Unit Production


Wood Pellets Making Unit Production
Wood chipping process
In this step, a wood chipper is used to cut big wood pieces, logs, branches into smaller chips. It is a necessary part for users who have wood logs as raw material.


Wood Chipper
Wood crushing process
In this step, a hammer mill is used to grind or crush the raw material into different powder sizes depending on the specification in order to achieve optimal wood pellets.


Hammer Mill
Pellet milling process
The mill for processing pellets is the major component in the wood pellets production line. There are 2 different types of millers which are: the flat die pellet mill and ring die pellet mill. The ring dies pellet mill has higher production capacity as compared to the flat die pellet mill.


Wood Pellet Machine
BPM420 Ring Die Pellet
Model
Capacity (Ton/Hr)
Sawdust / Stalks
Power (kw)
Dimension (mm)
Net Weight (Kg)
BPM420
1.2~1.5 / 1.5~2.0
90+1.5+2.2kw
2500*1100*1900(2300)
3T
Pellet cooling process
After crushing and mixing into pellets, the temperature from the machine is about 88 degrees Celsius with high humidity, and needs cooling .The cool air blows reverse the pellets, so that the pellets are gradually cooled from bottom to top.


Wood Pellet Cooler
Pellet packing process
It is carried out by a semi-automatic packer. The packing machine weighs the sawdust particles and then loads it into the bag, and then puts it on the conveyor belt. The conveyor belt has a sewing machine sewed on the top of the bag to seal.The moisture content is also kept in the packaging process.


Pellet Packing Machine
Advantages of This Wood Pellet Production Line
The operation of the ring die pellet machine reduces the roller tear and wear to power , and it consumes less energy.
The utilization ratio of the roller increases, the output of the pellets raises, and the waste is reduced.Clean combustion.
Burning sawdust pellets in efficient furnaces is cleaner than organic decomposition in forests.
1TPH Wood Pellet Production Line Video
We have built a professional installation and commissioning team, which is responsible for the installation and debugging of overseas Large Wood Pellet Plant projects.If you are interested in our equipment, please contact us!

Successful Wood Pellet Production Line projects in ABC Machinery
HOT sale wood pellet manufacturing plant offered by biomass pellet equipment manufacturer or supplier, guide on process of wood pellet production and how to start wood pellet manufacturing business with limited cost in Tanzania, Egypt, Morocco, Ghana, South Korea, etc.


Large Wood Pellet Plant
20TPH Wood Pellet Plant in Vietnam
ABC Machinery provides you with a more rational biomass pellet production process with fewer operators required.Don't take the reference cost seriously, since all our project plan is customized based on our clients' specific situation and budget. Just tell us your needs and requirements, we believe that we can offer the BEST solution to satisfy you!