Currently, in the present trend around the globe, wood and biomass pellets are widely used by millions of people for their utilization in their home. Apart from this, a majority of persons are engaged in developing strategies as to how these kinds of pellets are designed and manufactured. Notably, the key machine used for making this kind of pellet is known as the pellet mill. Moreover, it is important to consider that this Pellet machine does not originate in a simple manner. This is the reason why people prefer to manufacture it their own rather than purchasing it.

Because of this reason that people are finding means that can be used in manufacturing homemade pellet mills for the purpose of meeting the heavy costs associated with the machines. Theoretically speaking, the own pellet can be manufactured if there is the enthusiasm to do so. The major problem that comes across while manufacturing your own homemade pellet mill is to have a sufficient and superior quality of elements. In this regard, you will need to have a heavy amount of money for achieving this.


Small Pellet Mill
Making the calculations in this regard, you will identify that you are spending a huge amount of money on manufacturing your own homemade pellet mill linked to the figure of the amount you could have spent in buying a retail pellet mill. Millions of households have the desire to manufacture their own homemade pellets, however, a majority of them do not have the plan to support the idea of building the pellet mill.So, when you are preparing to build your own pellet factory, what factors should you consider ?

Considering The Development of Own Pellets
First of all, sufficient amounts of raw materials should be procured including wood, sawdust, tree branches, grass, leaves, straw, and stalk etc.The level of raw material status will directly affect the quality of pellet production, which in turn will affect the pelletizing plan of pellet mill.In this regard, you should understand elements such as shape, size, and moisture.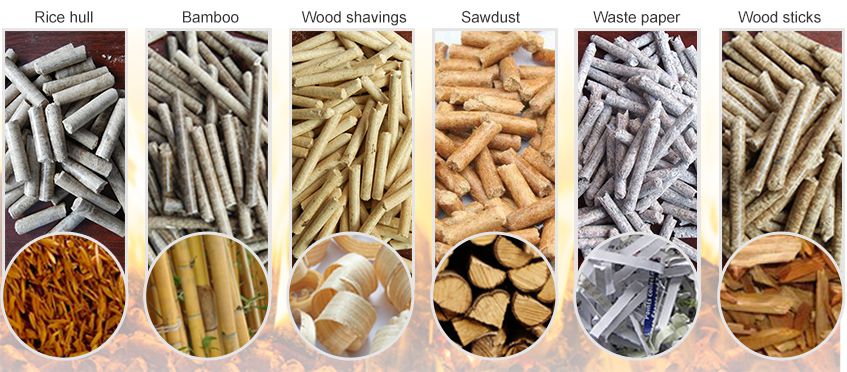 Granules Made from Different Raw Materials
Raw material size requirements
When the pellet machine is granulated, the size of the general raw material after crushing must be less than 5mm. The specific crushing size is determined according to the expected particle diameter and the size of the die hole of the pellet machine.
Raw material moisture requirements
Regardless of the raw material, the wood blocks with large size are required to be processed by means of a wood chipper. And the moisture content in the best manner is 8-12%. The dry or wet material is not suitable for pelleting. If the moisture size is not well controlled, the particles are easy to lose or break, and it will also affect the output value of the pellet machine. Therefore, it is necessary to dry it before processing. Or add water.
Raw material adhesive requirements
The raw materials processed by the pellet machine can achieve high-quality pelleting effects without any additives. However, in order to increase the output and greatly extend the service life of the wearing parts such as the die plate and the pressure roller, it is recommended to use the adhesives reasonably.
Considering All Aspects of The Budget
Although homemade pellet mill does not cost so much but long term benefits and cutting down on fuel costs, should be analyzed for a home pellet mill plant. If building a pellet factory is a business plan .the production capacity will start at least 1 ton per hour.Because granulation requires a huge mechanical pressure on the wood pellet machine, this is not feasible for a small household pellet machine, because the small homemade pellet mill is designed for small amounts of pellets, such as several hundred kilograms. If you force the small pellet machine to work under high load, it will quickly break down.Therefore, there is nothing wrong with reducing costs, but it cannot save money on critical equipment.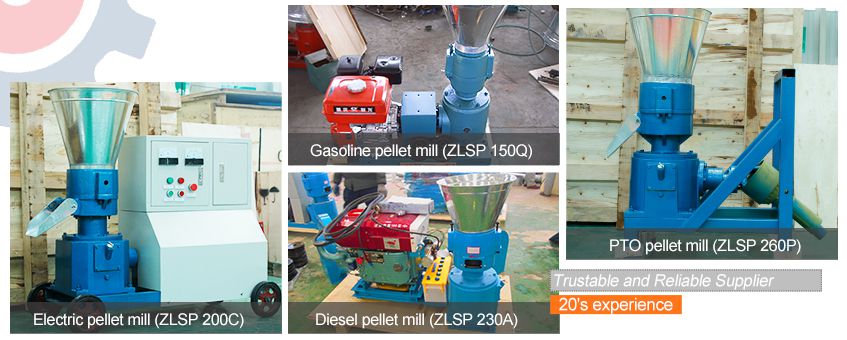 Pellet Machine Supplier
| Type | Power | Output (kg/h) | Weight (kg) |
| --- | --- | --- | --- |
| ZLSP 150Q | 10HP | 90-120 | 180/220 |
| ZLSP 200C | Three phase 7.5kw | 80-120 | 210/230 |
| ZLSP 230A | 22HP | 120-200 | 280/310 |
| ZLSP 260P | ≥30HP | 160-250 | 235/255 |
If you would like to know more about the budget, please contact us!

Frequency level required for pellet mill machine
Different capacities can opt in this regard including 50-400kg per hour to 0.5-2 ton hour, it means the right amount of frequency should be picked. If the pellets are created for own use, that option should be picked that can produce 50-100kg/h which is quite enough for personal use. In addition, if you also desired to make a sale of pellets to your neighbors that small pellet plant would be enough to meet the demand that should be capable of producing 250-450kg per hour.
Equipment composition of small household pellet mill
Small pellet production line equipment includes hammer mill/crusher, conveyor, dryer, small pellet mill, pellet cooler, etc.Different equipment can be selected according to your needs. The small pellet production line can save your labor costs and will not delay pellet production. Allows you to easily make your own pellets at home.

If you lack the knowledge about building one, you can certainly ask for help from your friends or colleagues who could be using one for a reason similar to yours. At the same time, you are not likely to encounter any difficulties in getting the information you need. Over the Internet, you can come across several websites, which can give you technical information about how you can accomplish this objective. Your cause will receive a boost of a different kind if your friends or colleagues can also provide assistance when building the mill.
This is a convenient way of converting waste into pellets and transferring them for use for the production of energy. If you haven't considered these matters at this moment, we strongly suggest you do so right away because you are not just making an attempt to reduce your energy bills but are also contributing to the environment by removing any waste, which may be lying in your home or around it. This is an eco-friendly method of generating energy, and it is not likely to cost you a great deal of money. You could perhaps be thankful that you decided to begin to build your own pellet machine because it will help you to save plenty of money on energy bills. If you have plans for a homemade pellet factory, or want to know how to make pellet mill machines, feel free to contact us for the most professional guidance!