Global Industrial Wood Pellet Market Potential for the Next Decade — Positive Tendencies
According to the above picture, the industrial wood pellet market in different countries is potentially growing and has a great trend in the next decade due to the active promotion of low-carbon environment and strong government support for the wood pellet industry globally.


Profitable Investment for Globle Wood Pellet Production Plant Market
North America Market
Currently, the U.S. remains the world's leading wood pellet demander and supplier. Accounting for 26% of global trade, a figure that has not changed in the last four years, it is a promising business for investment.
Canada has the potential to become a significant demand country for industrial wood pellets in the future. Recently, Canada announced a national carbon pricing program with a carbon price of $50/ton by 2023. And there are plans in some regions to stop coal generation and achieve a complete conversion to biomass generation by 2030.
Asian Markets
Most of the potential growth in demand for industrial wood pellets in Asia after 2021 comes from Japan and South Korea. According to analysis, it is likely that demand in both countries will triple between now and 2025, with an average annual growth rate of more than 3 million tons/year from 2010 to 2025.
In addition, Vietnam has quickly become a major source of wood pellets in Asia, becoming the world's largest exporter in 2000. Almost all of the country's exports go to Japan and South Korea.
European Market
Europe is the largest importer of wood pellets, and imports have been doubling over the past decade. The policy of using low carbon sustainable wood pellets as an alternative to coal in power plants has driven and continues to drive the traditional markets in Europe and the UK.
But for now, the European wood pellet market is still in short supply. According to our customers: In the Netherlands, the retail price of pellets without tax is around €500/tonne (15kg bags) and €350/tonne in bulk (large bags), which is really a bit crazy. As a result, more and more investors are choosing to buy their own wood pellet mills to make pellets to satisfy their own demand for wood pellets on the one hand, and to capture this lucrative business on the other.
wood pellets is a new type of biomass renewable energy, the use of common making furniture, wood and other products of wood waste, branches, bark, sawdust and other utilization rate is very low and easy to cause pollution waste, after processing can become the use of high value biomass fuel, as clean energy use, to promote the development of low-carbon economy. For more information of wood pellet making machine and business plan, please feel free to contact us!

How to Build Your Wood Pellet Manufacturing Plant for Business Purpose?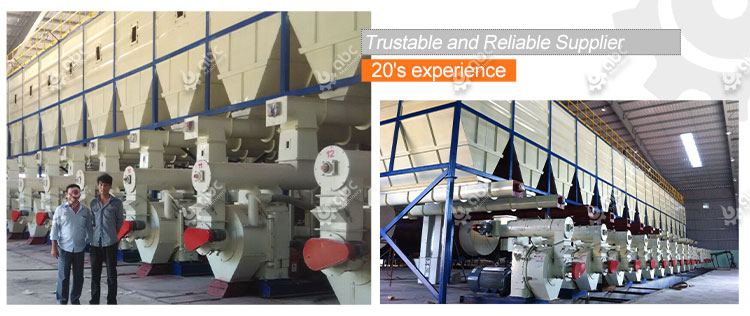 Start a 20 Ton Per Hour Ring Die Pellet Making Plant Business in Vietnam
♦ Develop a good business plan
A good business plan is the most important thing to start a wood pellet manufacturing business. We have analyzed the market value of industrial wood pellets above, your business plan also needs to include competitor analysis, budget evaluation, plant design, land construction, equipment selection and marketing. Tell us what you need and ABC Machinery will design a plan for you free of charge, welcome to contact us!
♦ Identify a good location for your wood pellet production plant
If you plan to have your own wood pellet manufacturing line for your farm, it is best to place it in a safe location on or near your farm so that you do not have to spend money to move it to your farm. On the other hand, if you are starting a wood pellet manufacturing plant to sell pellets on a commercial scale, choose a location near a market and close to raw material suppliers. This way you don't have to spend too much on transportation.
♦ Purchase all necessary wood pellet manufacturing machines
Usually, a large industrial wood pellet production line consists of a wood crusher, a dryer, a ring die pellet mill, and a cooler and packaging machine. All these machines perform different functions, but their ultimate goal is to produce high quality pellets. This equipment can realize automatic feeding, rapid feeding, smooth discharging and even blending, making it the best choice to buy wood pellet production line! (Read more: Industrial Wood Pellet Processing Plant Cost >>)
♦ Purchase of raw materials
Wood pellets can be made from many different raw materials. The choice of material depends on the local demand. Therefore, buy raw materials from trusted buyers who sell quality raw materials at reasonable prices.
♦ Selling your wood pellets in the market
Once you have produced good quality pellets, put them in bags with your brand name and logo on them. Initially, sell them in a market where there is not much competition. Once you become famous in the field, you can enter the competitive market as well.