Investing in a charcoal briquetting plant can be a profitable business venture, yet it also prove to be a cost-intensive undertaking. Even so, the cost of setting up a charcoal briquetting plant is based on a variety of variables. Thus, four factors in particular determine cost: raw materials, equipment, land, and labor. (Latest article: How to Start a Charcoal Briquetting Plant >>)

Choose the Best Charcoal Briquette Making Machine Manufacturer


Cost for Building A Charcoal Briquetting Manufacturing Plant
Charcoal Briquetting Plant Designing and Constructing
We can provide a variety of biomass feedstock briquettes as well as charcoal briquetting machines to process your wood or biomass feedstock into tight blocks. You can get a tailor-made program according to your specific requirements and needs.
In addition, we have many successful charcoal briquette processing projects around the world, including mini charcoal briquette processing units, small charcoal briquette processing plants, medium-sized charcoal briquette processing plants and large automatic charcoal briquette processing plants.
Just send us an inquiry and tell us your needs, we will make the best charcoal briquette plant processing plan and equipment list for you! (Learn more about: Commercial Charcoal Briquetting Plant Project Report )
Four Factors for Building Charcoal Briquette Manufacturing Plant Cost
If you are planning to set up a charcoal briquetting plant but don't know where to start, this article may help you take the first step - a cost assessment. Please feel free to contact us for more details about our charcoal briquette processing equipment and mechanism charcoal processing solutions.
Raw Materials Collection
The raw materials for charcoal briquetting production are widely available, such as rice husk, peanut husk, cotton husk, corn stalk, sorghum stalk, bean stalk, sawdust, wood shavings, shavings, coconut husk, etc. ( Sawdust, shavings, bamboo shavings and rice husk are the best. )
The main characteristics of mechanism charcoal: high density, high calorific value, smokeless, tasteless, non-polluting, non-explosive and flammable, which is internationally recognized as a green and environmentally friendly product.
The Quality Index of Charcoal Briquette
| Charcoal content | Heat generation | Ash | Water | Charcoal outer diameter | Middle pore diameter |
| --- | --- | --- | --- | --- | --- |
| >85% | >8 kcal | <5% | <4% | 37-40mm | 15mm |
Charcoal Briquette Making Machine Cost
The above-mentioned materials are dried into standard raw materials with appropriate dryness and humidity by the drying furnace, and then cooled and entered into the charcoal briquettes making machine, which is then shaped into a stick by high temperature and high pressure plasticization, and then charred into finished charcoal bruqettes by the charring furnace.
The charcoal briquetting process requires a number of equipment, such as for crushing raw materials, dryers, coolers, charcoal briquetting machines and charring furnaces, etc. The high quality and ease of operation of the equipment has an impact on its cost. However, choosing superior and skilled charcoal briquette production equipment may be a worthwhile venture as the maintenance costs of such a line tend to be lower. When you want to set up a charcoal briquette production plant, you must take into account the nature of the equipment and related support materials. Here is an article on how to start a charcoal briquetting plant. (Read more about small charcoal briquetting equipment >>)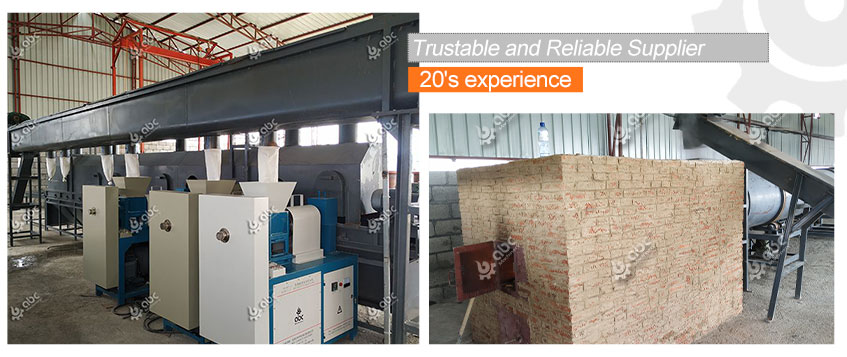 Charcoal briquette processing equipment is compelling machinery. The cost of the equipment may be based on the specifications of the briquetting machine, including capacity, power, workshop and quality standards. Even so, the cost of a 1 ton per hour charcoal briquetting package can range from $30,000 to $50,000 per set. ABC Machinery has expensive and pocket-sized charcoal briquetting equipment. If you are interested in the cost of a mini charcoal briquetting plant, or would like to get a customized business plan for a mechanism charcoal plant, or have any questions on how to build a charcoal briquetting plant step by step, please do not hesitate to send us an inquiry for a free consultation.

Land Construction Cost
The site selection for charcoal briquette making plant should provide sufficient space to meet the construction needs of the production process and auxiliary production facilities of the project; the site should have good production infrastructure conditions and sufficient supply of production factors to ensure a reliable guarantee of energy supply.
By the way, different factors may produce different land costs. For example, land in and near urban centers is relatively more expensive than land located in distant rural areas. A reasonable decision should be made in plant site selection based on the actual situation and budgeted costs.
Labor Cost
The purpose of purchasing machinery and equipment is to save more labor cost. Small charcoal briquetting sets require about 10 workers. According to the overall deployment of the construction of charcoal briquetting and the construction period plan, choose the labor team with many years of experience in cooperation with the factory and rich experience in operating the equipment to save time and effort.
Video: Small-scale Charcoal Briquette Processing Plant Project Plan
This is one of our one-ton per hour charcoal briquette processing project setups in Pakistan. Watch the video below of the mechanism charcoal plant in operation to learn more about the charcoal briquetting plant layout design.