According to the definition of the International Energy Agency (IEA), biomass refers to all kinds of organisms, including all plants, animals and microorganisms, formed through photosynthesis. Biomass is a form of solar energy stored in biomass in the form of chemical energy. It has been one of the important energy sources for human survival and is the fourth largest energy source after coal, oil and natural gas, occupying an important position in the whole energy system.
The total amount of biomass reso​urces is large and rationalized for exploitation
Now, the establishment of biomass wood briquette production plants to produce high-quality biomass briquette for combustion and power generation has become a popular project. Therefore, starting a biomass wood briquette production business is an excellent choice for many investors to obtain long-term profits.
This article is an analysis of a project report from ABC Machinery that includes raw material of biomass briquetting, biomass briquetting production process and required equipment selection, and photo display of a successful biomass briquetting project. If you are interested in building a biomass wood briquetting plant for hot water boilers, heating boilers and power plants, etc. ABC machinery can be your best choice!

What are the Raw Materials of Biomass Briquetting Fuel?
The raw materials of biomass briquetting fuel are mainly agricultural and forestry residues, such as peanut shells, straw, rice husks, wood chips and other perennial waste herbs and woody resources in rural areas can be used as raw materials for biomass briquetting fuel.
Is biomass briquetting a biomass forming fuel? The answer is definitely yes. Biomass briquetted fuel is defined by the shape of the product, so that based on the name you can know that this product is a block of fuel with a larger volume, while biomass pellet fuel is a smaller volume of pellet fuel. The products currently sold on the market can be classified according to the shape, but also according to the specific raw materials, for example, peanut shell pellet fuel, this is a kind of pellet fuel processed from peanut shells, peanut shell briquette fuel is a kind of peanut shells processed into a block of fuel, they are the same raw materials, but different shapes.

Best Raw Materials for Making Biomass Briquettes
The above chart is part of the common biomass briquette fuel raw materials, after mechanical processing of small volume, high density, burning resistance, direct and convenient storage and transportation, smokeless and tasteless, however, if the raw materials are burned directly, the smoke is large calorific value is not high also not resistant to burning, transportation costs are more expensive.
After the authoritative department laboratory biomass briquette combustion emissions are as follows.
Main Technical Parameters of Biomass Briquetting Fuel

| | |
| --- | --- |
| Density | 900-1300kg/m3 |
| Calorific value | 3600-4000Kcal/kg |
| Ash | 5-15% |
| Moisture | ≤15% |
How to Set Up Complete Biomass Wood Briquettes Production Plant

Factory Price Biomass Briquetting Unit Manufacturing Process
When agricultural waste is briquetted, it produces the lowest cost, high calorific value fuel that can be a good substitute for wood and coal. This transforms waste into a useful and future renewable energy source.
Biomass Wood Briquettes Making Process
Biomass briquetting fuel is made by biomass compression briquettes machine. Most of the cellulosic biomass has the basic conditions for compression molding, but before compression molding, generally need to go through pretreatment, such as crushing, drying, etc., while sawdust, rice hulls and other materials do not need to be crushed again, but need to remove the larger size of the foreign matter.
Raw Material Dedusting Process
This section usually uses a sifter. The main purpose is to remove impurities from the raw material, such as iron filings, stones, etc. Have any questions about equipment selection? Don't hesitate to contact us!
Biomass Briquetting Process
Biomass briquetting is an important step when setting up a briquetting project or plant. Biomass briquetting machine is divided into spiral briquetting machine and stamping machine. Biomass wood chips with moisture content of 15-25% below 50 mm, corn, wheat, rice, beans, peanuts, yams and other crop stalks or pasture briquetted feed, as well as branch firewood and other biomass are pressed into high-density stick-shaped solid biomass fuel with cross-sectional size of 33-40 mm and length greater than 15 cm.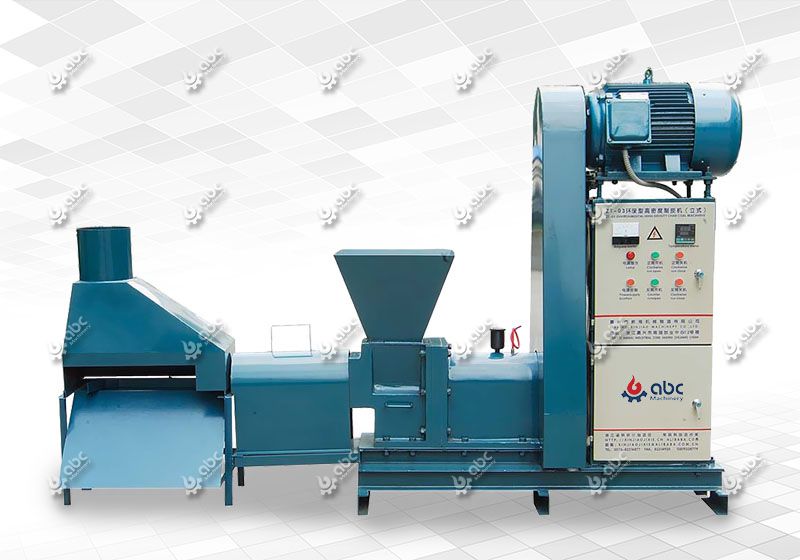 Cost-effective Biomass Briquettes Making Equipment for Sale
Screening, cooling and packaging
The finished product after biomass briquetting is screened to remove debris and powder, and cooled for temperature and moisture, then packaged and stored. The slag and powder are returned for disposal.
Video: What is the Optimal Capacity of Your Biomass Briquetting Plant?
We not only provide small biomass briquette production equipment, but also provide you with biomass wood briquette plant production turnkey project, including
process design, plant layout, equipment manufacturing, briquette plant installation and commissioning
, as well as electrical control on-site training, plant operation, biomass briquette feed processing technology.
Please feel free to contact us for biomass briquetting plants and complete business plans.