As the popularity of clean Biomass briquetting fuel continues to grow in recent years, the market and future development of wood briquetting is worth studying and learning from.
More and more investors are interested in wood briquetting machine business and hope to make profit by starting a wood briquetting plant. As a biomass briquette processing equipment manufacturer that has helped many domestic and foreign customers to successfully set up wood briquette plants, ABC Machinery will introduce you to the trends and benefits of starting a wooden briquette plant business in the future.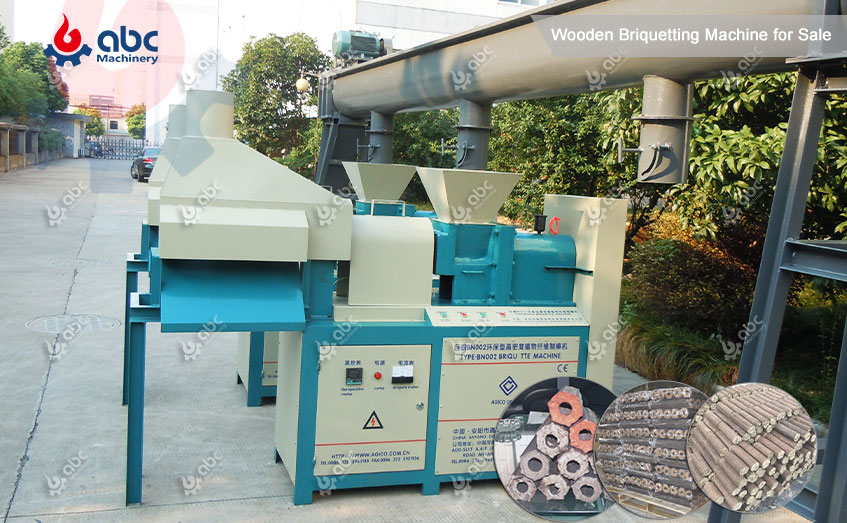 Setting up a Wooden Briquetting Production Plant with Low Cost

Biomass Briquetting Plant Application Fields & Market
Industrial field: wood briquettes are used to produce disulfide charcoal and steel smelting.

Agriculture and animal husbandry field: It raises the ground temperature, improves the soil, keeps the soil water, acts as a reliever of organic fertilizer and improves the acidity and alkalinity of the soil. It has a good market in the field of animal husbandry.

Life field: heating, barbecue charcoal, hot pot fuel, frying tea, drying tobacco leaves, eliminating harmful gasses, etc.

What Are the Most Suitable Raw Materials for Wood Briquetting Fuel?

| Wood Briquetting Raw Materials | Reason |
| --- | --- |
| Hardwoods such as oak, beech | They are the densest, most energetic and burn for a long time. |
| Softwoods such as fir and pine | grow quickly, split easily, and produce moderate, steady heat. For example, Douglas Fir is one of the most popular and useful softwoods, and is abundant throughout North America. |
| Fruit woods such as apple, cherry and pear wood | produce a different fruity flavor when burned. Fruitwood is ideal for use in home wood-burning fireplaces and as the wood of choice for outdoor barbecues and roasters. |
Market Report: Main Biomass Briquettes Sales Area
At present, China is in a period of rapid economic development, and there is a great demand in industry, agriculture, animal husbandry and civil use, etc. Wooden briquettes are sold all over the country, and the amount of charcoal used in the south and eastern coastal areas is even greater. The markets in Europe, America, Japan, Korea and Southeast Asia are more popular.
The Advantages and Prospects of Wood Briquette Making Industry
Significant Social Benefits
Bioamss briquette burning smokeless, the first change is the people's living environment, agricultural waste and other waste as raw materials processing to produce useful wooden briquette, which produces economic benefits is originally no one wants the waste into raw materials farmers can sell at low prices, and the production of wood briquette can also be used in many places instead of carbon.
Turning Waste into Treasure, with Great Economic Benefits
As a large agricultural country, China has 6-7 billion tons of crop straw and other residues every year, but the utilization rate is only 20%, and most of the branches, sawdust, rice husks and bamboo chips are thrown away. This project equipment can make the above waste materials into efficient new energy sources such as wood briquettes and wood tar. At present, the annual demand for charcoal in the chemical and gold treatment industries alone is 6 million tons, and the annual demand for charcoal in the food industry is about 5 million tons. Behind this huge demand lies an even larger supply market for wood briquettes.
As the only renewable energy source that can be stored and transported, the demand for wood briquettes is increasing year by year and the price is also rising.
Save wood and protect the agricultural and forestry environment
Wood briquettes can replace natural charcoal. It not only saves wood, but also effectively protects forestry resources and alleviates the shortage of wood in the industry. Since wood briquettes have many characteristics, they sell extremely well in the market. The development prospect of wood briquettes is broad.
Wooden Briquettes Production Technology
Wood briquettes production line includes: crusher, drying machine, briquette making machine and cooling machine.


1 TPD Wooden Briquette Production Processing in Ethiopia
The manufacturing process of charcoal: raw material preparation, briquette producing. Wooden briquettes manufacturing technology plays a decisive role. If the briquetting technology is not well mastered, the output and quality will decline, which directly determines the profit of wood briquette plants.

Running Video of Wooden Briquette Processing Equipment
Buy factory price wooden briquette machines from a wooden briquetting manufacturer, get free guidance to setup wood briquettes production processing projects for business in Guatemala, South Korea, Japan, Thailand, Indonesia, etc., at low cost.