There are many raw materials for biomass pellets, such as wood, paper, paperboard, grain, alfalfa, corn husk and straw, grass debris, courtyard waste, forest and agricultural waste, etc. and the production process of these raw materials is basically the same.


Four Tips for Choosing A High-quality Wood Pellet Mill
Most pellets are produced in large pellet manufacturing plants, but in recent years small scale pellet mills have become increasingly popular with family households and small scale pellet businesses. If you are considering producing and manufacturing your own pellets, the following will teach you how to make wood pellets step by step, as well as better teach you how to choose a pellet mill.
Four Points for Choosing a Cost-effective Biomass Fuel Wood Pellet Mill
Biomass pellet mill is to make wood chips into pellets of biomass fuel. There are many pellet mill manufacturers on the market that produce such machines and equipment, and there are many users who do not know how to choose when buying such machines.
Here are 4 major issues to pay attention to when buying a biomass pellet mill
Choose a strong brand enterprise
Although there are many enterprises on the market that are capable of producing such equipment, the quality of the products produced varies greatly. Especially in the function and service life of the equipment, the strength of the brand enterprise, and the quality of the product produced a little better.
Choose the machine model to match the production of raw materials
Because each region uses different granular materials, some regions have more wood trimmings, and some regions are rich in straw trimmings. Selection of the machine should take into account the production of raw materials, and then select the machine specifications and models to match the raw materials.


Details of Wood Pellet Making Machinery
To consider the machine's spare parts configuration and after-sales service
The production process of biomass fuel pellets: The wood or other raw materials to be used in the process are crushed into wood chips. Then it passes through the funnel-shaped die of the biomass pellet mill, where the raw material is extruded through the die hole at a fixed diameter, eventually compressing it into dense pellets.
Some parts of the wood chip shredder are wearing parts, which need to be replaced from time to time.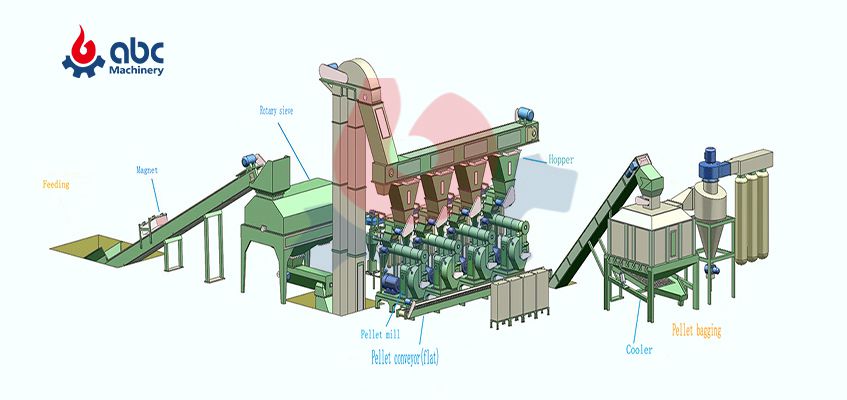 High-quality Biomass Pellet Plant Production Processing
If the spare parts of this type are relatively troublesome to purchase, it will affect the production. To ask the pellet mill manufacturer whether to provide door-to-door maintenance services, or what are the maintenance outlets. It can be said that the production of this type of machinery manufacturer's after-sales service is quite important.
Before buying biomass pellet mill, should first examine the production efficiency of users who have already purchased
Before buying the machine, first examine the pellet mill production line that others have been running, and then determine whether it is suitable for their own investment production. Because some areas are not rich in production raw materials, production raw materials need to be purchased from overseas, which will increase transportation costs and lead to unsatisfactory returns. So it is said that the first inspection can avoid the risk brought by blind investment.
After the above introduction can be seen, the purchase of biomass pellet mill considerations include: choose a strong brand enterprise, choose the machine model to match the production of raw materials, to consider the machine spare parts configuration and after-sales service, should first examine the production efficiency of users who have purchased the machine.
Video of High-Quality Wood Pellet Making Machine
Wood can be used as raw material for biomass pellets to be processed and made into pellets. If wood is to be used as raw material for production, it needs to be crushed by a shredder for processing and manufacturing, but the moisture of wood chips should be considered.
In addition, ABC Machinery will provide you with more information about biomass wood pellet production equipment and processing technology for free!