In the current world, energy shortage and environmental degradation are becoming issues of concern. Due to this fact, biomass pellets have proven the best alternative to natural gas and petroleum products. These pellets can be produced from nearly all agricultural products using biomass pellet machine.
Biomass pellet machine can be divided into two main classifications; Ring Die and Flat Die biomass pellet machines.
Ring Die Biomass Pellet Mill
This
ring die biomass pellet machine
is commonly used to process logs, sawdust, wood chips and tree branches among others. It is cylindrical in shape with several holes, hence its name Ring Die. The number of holes is dependent on the driving motion to rotate it.
Working principle
It has 2-4 free rotating and driven rollers inside the ring. Once the raw material enters the pellet chamber, the rotating rollers force it through the holes making cylindrical pellets. The mill has equal inside and outside distance, causing uniform speed in the ring die and compression rollers Therefore, there is no additional friction, making the mill efficient and suitable for large production of biomass pellet.
There are various benefits of using this mill, including, but not limited to;
Used in industrial large pellet production.
Produce denser and smoother biomass pellets due to high pressure.
It is the best choice for processing wood and palm fiber.
It is cost effective-it has longer service compared to the other mill.
Features
The mill implements the current air circulation technology to regulate temperature and vapor. The temperature is regulated at 80-100℃ to lessen heat pressure triggered to ring die. It thus prolongs ring die and roller lifespan ensuring longer productivity. A single ring die is estimated to pelletize about 300tons. With regulated temperature, this is greatly improved to about 1000tons.
Flat die biomass Pellet mill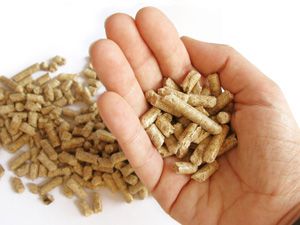 It is a popular biomass pellet machine composed of flat round iron die, feeder and press roller. There are four main types of this classification of biomass pellet mill.
Electric pellet mill.
Diesel pellet mill.
PTO pellet mill.
Gasoline pellet mill.
(Read more on
flat die pellet mill>>
)
Working principle
Just like the ring pellet biomass mill, it contains a group of 2-4 rollers with grooves. The raw material falls from above and are forced through the die holes by rotating rollers. They then extrude into a long cylinder from the bottom of the die holes, cut into pellets with cutter.
This mill has three driving modes- driving flat die, driving roller and dual drive. The Flat Die biomass pellet mill is generally designed for easy to manufacture and low cost biomass pellets. It doesn't take up much space as well, so if you need smaller production of pellets, this is right choice.
Some of the raw materials for this mill include; sawdust, rice husk, wood chips, bamboo waste, peanuts, etc. These raw materials can produce pellets for various usage. For this reason, flat pellet mill can be divided into the Biomass pellet mill and feed pellet mill.

1. Biomass pellet mill.
This mill can process pellets from raw materials such as sawdust and wood chips. The pellets here are mainly used for cooking, heating and animal bedding among others.

2. Feed pellet mill.
It is suitable for small scale farmers who carry out livestock rearing. It helps improve animal nutrition.

Depending on your objective, you can choose either of the Rind Die or Flat Die biomass pellet mills to realize your goal.
Get In Touch Now!
We receive enquiries in English, Español (Spanish), Русский язык (Russian), Français (French) and العربية (Arabic). Our professional team will reply to you within one business day. Please feel FREE to contact us!
Your privacy is important to us,we are committed to marking sure your privacy is confidential.