During Jan. 18 and 22nd, 2019, ABC Machinery professional pelletizing engineers flied to Phnom Penh, the capital of Cambodia to teach our client how to use the ZLSP-300B R-type pellet mill make rice husk pellets.
Our engineers had brought a 6mm flat die which had been used for testing pelletizing rice husk before for the client.
Previously, the client sold coconut shell and burning stove to their customers. By purchasing our fuel pellet mill, they will sell rice husk pellets to their customers to replace coconut shell fuel.
The client had prepared rice husk, small amount of wood and coconut shell as raw material. As the rice husk in Cambodia (long and narrow) is different from that in China (short and broad), our engineers pulverized it first. Besides, the coconut shell and wood chips all need to be crushed first.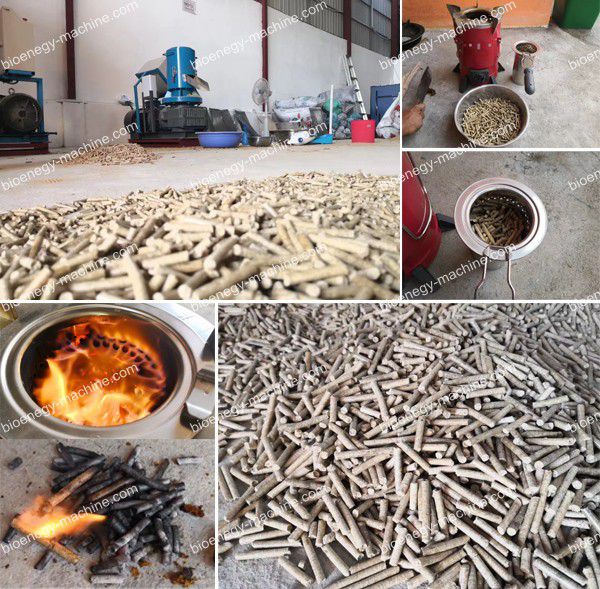 The rice husk was separately pulverized with 4mm and 6mm sieve. The results show that 6mm is too large for rice husk, while 4mm sieve performs well.
By using the 6mm flat die that our engineers taken along, the pellets output was good. But the client also wanted us to test the 8mm flat die they purchased. With pure rice husk, the pellet output was not ideal, since there was too much powder, and if the moisture was high, pellets would be short or crack. Even added some wood powder, and the moisture controlled at 12%, the pellets output of 8mm flat die was still not good. This show the compression ratio of that 8mm flat die was not suitable for processing local rice husk.
Besides, our engineers also used 6mm flat die to make pure rice husk pellets, 75% rice husk and 25% redwood powder (moisture content 50-60%) mixture pellets, and the output were all good. When burning in their stoves, all performed well. The client was satisfied with our ZLSP-300B R-type pellet mill.
Our engineers also demonstrated our mixer and pellet cooler. The boss was interested in the complete rice husk pellet line, and later they will order the line from ABC Machinery.
If you need similar or the same Rice Husk Pellet Mill or the complete production line, just leave your message below to get our professional guidance!

Get In Touch Now!
We receive enquiries in English, Español (Spanish), Русский язык (Russian), Français (French) and العربية (Arabic). Our professional team will reply to you within one business day. Please feel FREE to contact us!
Your privacy is important to us,we are committed to marking sure your privacy is confidential.