Starting Saw Dust Charcoal Briquette Making Business
Charcoal has been a widely used source of fuel over decades. It is one of the main fuel products used for both industrial and residential. Occount of the advantages of charcoal of being odor free as well as smokeless; and thus being a common fuel for the outdoor cooking. It has a long-lasting energy effect and can be used in industries making metals such as steel. Natural charcoal is made from burning materials rich in carbon in an atmosphere with limited oxygen. Burning in a low oxygen atmosphere helps to remove any moisture, making the charcoal lighter and remove the volatile gases from the wood, ensuring that the resulting charcoal has a longer burning effect.
However, in the recent past, the presence of natural charcoal is diminishing. Its demand has been high while the supply is limited, partly because of diminished forests and the desire to conserve the trees. As a result, charcoal making machine is becoming popular today, and Starting a Charcoal Briquette Business has been profitable project in many countries, like South Africa, Uganda, Kenya, etc..
Charcoal briquette making machine is used to make charcoal briquettes from sawdust, or any other related biomass powder, such as straw and stalk. So, how to make charcoal briquettes from sawdust? A briquette is defined as a block of compressed sawdust that can be used as a fuel product. Its production involves adding a binding material to the dust then applying high pressure and high temperatures. (Related Equipment: Briquette Making Machine >>)


From Wastes to Briquettes
How to Make Charcoal Briquettes from Saw Dust?
The raw materials to make sawdust charcoal briquette is saw dust. In order to guarantee a larger productivity, the saw dust be below 1cm in size and the moisture content should be less than 12%. to guarantee a larger productivity.
Basic Charcoal Briquetting Machines
The general machines to make charcoal briquettes includes sawdust briquette press machine, carbonization furnace, crusher and dryer. Screw briquette press machine is the top pick small scale briquetting equipment. Its structure and appearance are all improved in the design according to our years of experiences. In addition to sawdust, it can also process a very wide range of biomass materials, such as bark, cardboard, cellulose, cotton stalk, hay, paper, tobacco, wood chips, etc.


Manufacturing Process of Biomass Briquettes and Charcoal Briquettes
Charcoal Briquettes Making Process
First, pass the sawdust into a

crusher

to crush them into about 5-millimeter size. Then pass the crushed materials through a large

drum dryer

to reduce its moisture content. It should be dried to a moisture content of between 8 to 12 percent. Once you have the materials dried, feed the sawdust into the

biomass briquette machine

by pressing it inside the machine.
Compress the Biomass briquette machine under high pressure and temperatures in a process known as briquetting. During this process there is self-bonding which involves thermoplastic flow of the biomass. Lignin content is formed naturally inside the biomass machine due to high pressure and temperatures, and it is liberated. It serves as glue, binding and compressing the biomass to form high-density briquettes.
While inside the screw briquette machine, the materials being briquetted are stirred by a center shaft inside the machine to ensure a uniform combustion. Once the biomass has been briquetted, they are placed into the

carbonization furnace

. This will carbonize them to the machine made charcoal briquette. In the carbonization furnace, minor ingredients such as starch binder are included where they are blended together with the materials.After blending, drop the material into a press machine that makes them into sizes. It is then taken to a conveyor machine where the material is heated under high temperatures to reduce its moisture content to less than 5 %. The charcoal briquettes are ready and can be stored. The charcoal will be of high density and a high heat value. Furthermore, just like the natural charcoal, it will be smokeless and odor free. The charcoal briquette is an environmental friendly product because it does not pollute the environment.
If you are looking for equipment to sawdust charcoal briquette, we can offer the complete Biomass Briquette Plant. Please contact us directly to get the price list and machine parameters!

Sawdust Briquette Press Machine for Sales
Sawdust Charcoal Briquetting Machine for Sales
Model
GCBC- I
GCBC-IIA
GCBC-II
Input Raw Material Size (mm)
3-5mm
Output Capacity (kg/h)
180-210
300-500
300~350
Shapes of Briquettes
Φ=40mm, 50mm, 60mm, 70mm
Motor Power (kw)
15kw, 380v, 6 Grades
18.5kw, 360v, 6 Grades
22 kW
Heating Range
280~350℃
Size of Briquettes Inside Hole
Dia.16mm
Dia.16mm
Dia.18mm/16mm
Density of Briquettes
1.3T/m³
Weight (kg)
700kg
800kg
780 kg
Overall Dimension(mm)
2700*600*1600 mm
2000*600*1700
1500*1200*1600mm
Setting up Sawdust Charcoal Briquette Production Plant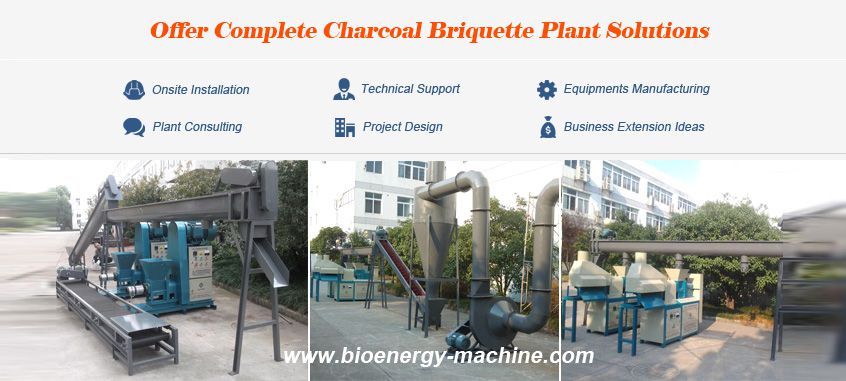 Sawdust Charcoal Briquette Production Plant
Setting up a small scale charcoal briquette production line would be a great choice for those who desire to start charcoal briquette making business due to the low investment, easy operation and less maintenance. The basic sawdust charcoal briquette production process is as above listed, including crusing, drying, briquetting, carbornization. Recently, we have successfully set up 1T/H Sawdust Charcoal Briquetting Plant in Pakistan. If you want to more detailed information or the cost to set up a small scale briquetting plant, please contact us to get the FREE Quoation!
ABC Machinery provides different types of commercial briquette making machines at factory price. Our biomass briquette machines have been exported to many countries and have been recognized by our customers. In addition, we have a professional team with rice experiences in briquetting. If you have any questions about the machine, process and technology and more, please directly contact us to get the professional solutions. We promise the most favorable price in the market, but the best quality of our equipment.
Biomass charcoal briquette plant sample project
Get In Touch Now!
We receive enquiries in English, Español (Spanish), Русский язык (Russian), Français (French) and العربية (Arabic). Our professional team will reply to you within one business day. Please feel FREE to contact us!
Your privacy is important to us,we are committed to marking sure your privacy is confidential.