Charcoal briquetting making machine is commonly known as stick making machine. Generally speaking, all raw materials with wood fiber can be made into mechanism charcoal. The raw materials for the mechanism charcoal machine come from a wide range of sources, such as crop stalks, cotton stalks, sesame stalks, corn stalks, furniture factories, bamboo factories, chopstick factories, etc., as well as branches pruned from fruit forests and gardens. Therefore, charcoal briquette manufacturing is still very suitable for commercial investment to start a business. In addition, the price of charcoal briquette manufacturing machine is now preferential, and it does not require a lot of money to be invested, which is generally affordable for families. (Learn More: how to set up a charcoal briquetting plant?)

Tips on Investing in Charcoal Briquetting Production in the Philippines
The Philippines has a tropical maritime climate with lush vegetation, which has been the main output area of wood, and there exists a large amount of charcoal exports. In addition, the geographical distance between Southeast Asia and China is relatively close, which can save a lot of freight costs, thus China's charcoal imports mainly originate from Southeast Asian countries and regions. Especially the Philippines, China imported US$33 million of charcoal from the Philippines in 2021.
Profitable money making channel——Starting a charcoal briquetting plant business in the Philippines
By opening a charcoal briquetting plant business in the Philippines, we can not only use the abundant natural resources in the country to make coconut shell charcoal, charcoal briquetting and barbecue charcoal, but also package and process it for sale abroad using online sales platforms.(Related More: Setting Up A Charcoal Briquette Plant Price)
Application Advantages of Charcoal Briquette Production
Charcoal is widely used in daily life and is in great demand, mostly for high-end smokeless barbecue, metallurgical industry and heating. Especially in Japan and Korea, people's dietary habits determine the demand for charcoal, and the local representative barbecue cuisine is mostly sold by "charcoal barbecue", especially the high-end barbecue industry favors smokeless and flameless charcoal with high heating value and stable combustion.
The manufacture of coal briquettes from biomass is an efficient way to save energy costs as well as to dispose of biomass waste. As a renewable energy source, Biomass coal briquettes can be made from wood, sawdust, crop straw, grass, civil waste and animal waste.biomass briquettes made by briquetting machines, such as wood briquettes, sawdust briquettes or charcoal briquettes, are widely used as an alternative to traditional fossil fuels, especially coal, for heating in industrial and residential ranges.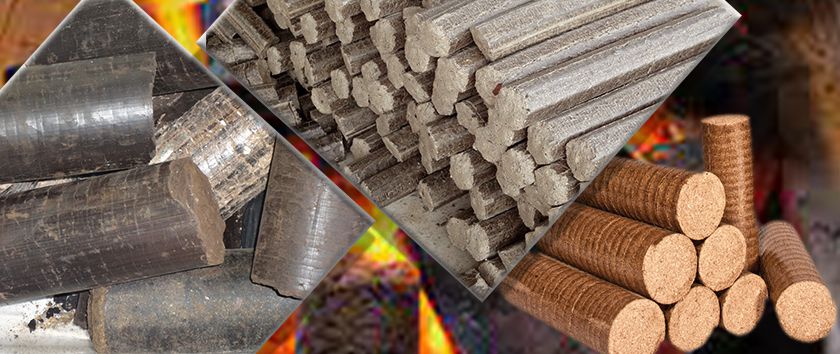 Manufacturing High-Quality Charcoal Briquette Product at ABC Machinery
Cost-effective Charcoal briquetting Equipment for Sale
Charcoal briquetting machines are using the special properties of wood, through the screw propeller's, using high temperature, high pressure, the fine material extrusion into rod-like solid, it forms the raw carbon briquette.
Parameter Table of Charcoal Briquetting Machine
stamping type briquetting machine
screw press briquetting machine
Raw material size /mm
3 - 20 mm
3-5mm
Raw material moister required
10% - 20%
8% - 12%
Product profile

Φ=70mm

Pellet: 8mm,10mm,22mm,30mm

Φ=40mm, 50mm, 60mm, 70mm
Product density/ g/cm3
0.9 - 1.3
1 – 1.3
Capacity/ kg/h
800 - 1200
180 - 1000
Energy consumption/ kW/t
40 - 50
70-80
Mould lifetime
1000h - 1500h
cooling required to mould

1500-2000
At the beginning, the charcoal machine needs a temperature regulator on the top of the machine to show the temperature, and when the temperature reaches 300-400 degrees, the material can be started. The temperature can also be set according to different materials. The charcoal briquettes produced are dense and fast, and the propeller and forming sleeve are made of wear-resistant stainless steel, which are generally not easily damaged.
The charcoal briquettes can be made in square, hexagonal and round shapes, and the grinding tools can be customized according to the customers' requirements. If you would like to invest a charcoal briquetting business, please contact us!

Our factory specializes in producing and selling various models of charcoal forming machine, which adopts the working principle of screw extrusion type to extrude charcoal powder into high-density charcoal briquettes. The charcoal briquette extruder adopts motor reducer transmission, with high extrusion pressure and high output, the output can reach 600-3000kg per hour, and it can produce charcoal briquettes of different diameters and shapes by changing different moulds, which is the equipment for producing barbecue charcoal briquettes.
Video of Charcoal Briquetting Production Line
The charcoal briquette making machine is made of sawdust, shavings, wood trimmings, branches, rice husk, peanut shell, bagasse, wine slag, cotton stalks, corn stalks, wheat straw, rice straw and other crop straws in the north and south as raw materials, using our new charcoal technology to get the ideal charcoal powder, or use the waste charcoal residue left behind when making charcoal, factory waste charcoal powder, after crushing, mixing and stirring, pressing molding can be. It is the ideal equipment for energy regeneration, waste utilization and turning waste into treasure.
Get In Touch Now!
We receive enquiries in English, Español (Spanish), Русский язык (Russian), Français (French) and العربية (Arabic). Our professional team will reply to you within one business day. Please feel FREE to contact us!
Your privacy is important to us,we are committed to marking sure your privacy is confidential.