When using wood pellet machines, many users may encounter problems. While the most fundamental problem is how to improve the efficiency of wood pellet machine, and ultimately increase profit. As an experienced wood pellet machine manufacturer and supplier, ABC Machinery has summarized some tips that can help users.
Choose a wood pellet machine for sale that can meet your production requirements. For example, if you want to produce 1-2 ton/h, but you choose a 2-3ton/h wood pellet machine, isn't it a waste of money?

In wood pellets production process, material feeding should be uniform, so as to ensure the smooth operation of the wood pellet machine, and the granulation is even and does not block.

Control the clearance between the roller and the pressing die, the material is pressed by the roller after high-temperature curing, so that the particle is compact and beautiful.

Choose the appropriate pressing die hole size in accordance with your actual needs. If the aperture is too small will cause a low yield, and also seriously affect the production efficiency of wood pellet machine.

Regular lubrication and cleaning. Long time friction between the die and the pressing roller will damage the die. Regular oil injection and cleaning can not only ensure the cleanliness of the die, but also reduce friction between the two, reduce costs and provide production efficiency.
To sum up, in order to improve the production efficiency of wood pellet machine, we should not only select the right equipment, but also pay attention to some small details in the normal production process.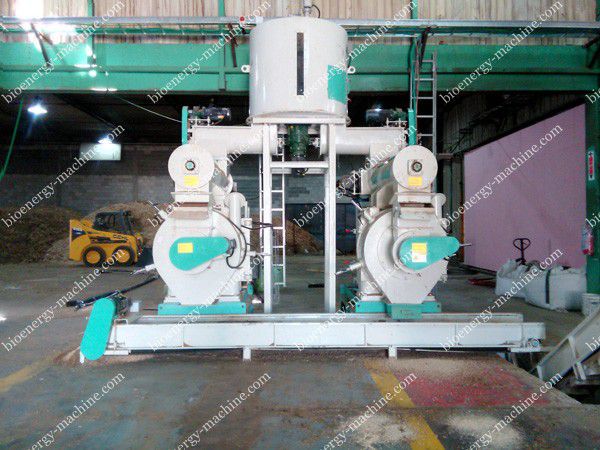 What will cause low yield to your wood pellet machine?
In view of the problems that users may encounter when using wood pellets machine, ABC Machinery gives you an analysis of the causes of wood pellets machine low productivity on the basis of many years of production and marketing experience.
First of all, let's talk about the preconditions of wood pellet making: 1. raw materials are powders; 2. grinding coefficient does not exceed 2/3 of the pellet diameter; 3. raw material moisture requirements in 10% - 15%. Only when these three conditions are all met can we produce the perfect wood pellets. And in the production process of wood pellets, there will occur low productivity, which may confuse many customers: I purchased a 2-3 ton/h wood pellet machine for sale, but the actual productivity is 1.5 tons per hour, what is the problem? Many people even complain directly that the equipment is not good, and the reputation of the manufacturer is damaged by some misunderstandings.
To figure out why, first of all, the raw material varied. With the increasing complexity of the biomass energy market, many customers do not comply with manufacturer requirements, resulting in mixed raw materials. The raw material for wood pellet machine is wood or sawdust. But many customers in the purchase of equipment may tell the manufacturer that their raw material is sawdust, but when collecting wood, some other substances are mixed, resulting in mixed materials, this not only causes low productivity, but also damages the mold of the wood pellets machine. If your raw material is a mixture of many materials besides wood, you must tell your pellet machine supplier the truth, so that they can offer you the most suitable pellet machine.

Secondly, the replacement of staff. Pelletization is a very dirty and tiring process, which will lead to frequent changes in workers, coupled with the lack of understanding of equipment, resulting in inefficiency, and reduced productivity.
If you are looking for a wood pellet machine for yourself, you can choose ABC Machinery as your pellet machine supplier, since we have years of experience in bioenergy machinery field and gained good reputation in the industry. If you are interested, just leave us a message below!

Get In Touch Now!
We receive enquiries in English, Español (Spanish), Русский язык (Russian), Français (French) and العربية (Arabic). Our professional team will reply to you within one business day. Please feel FREE to contact us!
Your privacy is important to us,we are committed to marking sure your privacy is confidential.