Project Name: 1TPH Coffee Shell briquetting Production Line
Production Output: 1 ton per hour
Project Location: Ethiopia
Raw Materials: Coffee husk, wood blocks, wood shavings and
Included Main Machinery: Three briquetting production lines, mainly consisting of crushing sets and briquettes making production lines.


Coffee Husk Briquetting Production Equipment Manufacturer
The coffee husk briquetting plant was built by Gemechis Mulatu Neguma in Ethiopia. Ethiopia is known as the "birthplace of coffee" and produces some of the world's finest coffee, with an average annual production of around 330,000 tons, accounting for 15% of the world's total production. In this 120 tons coffee shell briquetting plant, the customer chose the most advanced 3 screw briquetters, pre-treatment crushing section, drum dryer, etc. Each area provides the customer with a high quality end product.
If you are interested in a biomass briquetting machine to build a biomass briquetting manufacturing plant for wood chunks, wood chips, straw, coffee husks, bagasse, etc., please check out our commercial biomass briquetting production equipment >>.

Photos of Complete Coffee Husk Briquette Processing Line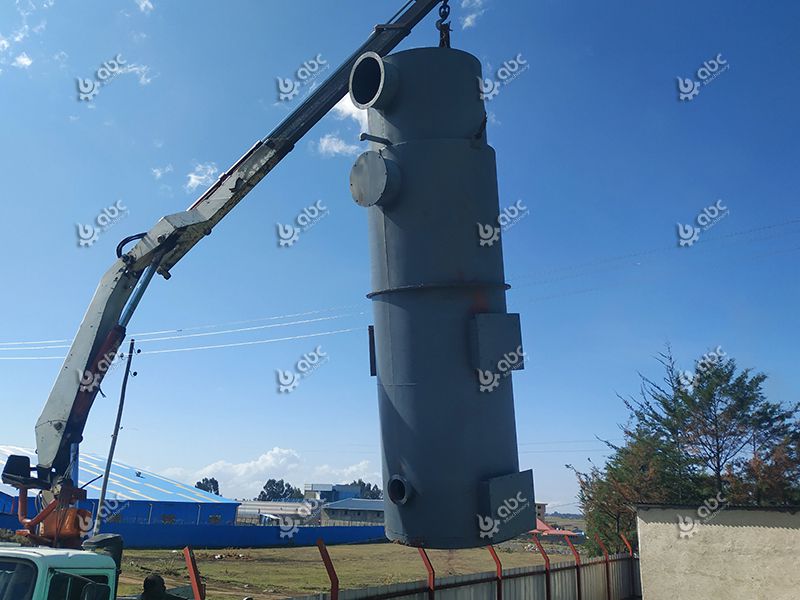 Coffee Husk Briquettes Production Plant Installation Site

Cost-effective Rotary Drum Drying Equipment
How to Start A Coffee Husk Briquetting Project
For those considering the production of coffee husk briquettes for commercial use, a complete wood briquetting plant would be a good choice because it has a complete wood briquetting production process, relatively high production volumes and good quality of the final briquettes.


Installation Site of 1TPH Coffee Husk Briquetting Line
Well, before starting a coffee husk briquetting project, make sure you can control the following points.
1. Investigate and finalize contracts with suppliers of raw materials/raw materials (coffee husks, wood blocks)
2. Verify the machine Supplier's declaration
3. Sign the agreement with the buyer
If you are not sure about any of the above, we suggest you do not get involved in this business because all the above topics are complicated.
Raw materials/ingredients
For example, the customer wants to build a coffee husk briquette production plant and ignores the need to control the supply of biomass. However, when they started building the plant, they encountered the following supply problems.
1. The quantity and quality of raw materials were not available
2. The supplier raised the price 3 times because it was a waste for the supplier and they knew the plant had to buy it somehow.
3. Quality problems, not up to the standard required by the machine
Choice of technology
Many suppliers will claim that their systems are very successful. However, before finalizing with them, do the following.
1. Determine simple information about their closing customers.
2. Be sure to visit the factory where the machine is manufactured.
3. test all parameters guaranteed by the operating unit.
Purchaser
Each machine will have a different output in terms of quantity and quality. It is also true that most buyers have different requirements. Therefore, when you talk to buyers who need pellets and briquettes, you will know what type of output is needed in terms of quality and quantity, which will help you choose a biomass briquetting machine supplier.
Vdieo of Biomass Briquetting Production Plant Working
In a Word, if you want to use a biomass briquette machine to make coffee husk briquettes, then you need to know what type of briquette machine you have , whether it is a screw briquette machine or a press briquette machine. It is best to consult the manufacturer of the biomass briquetting machine you purchased, or a similar briquetting machine manufacturer.
If you can't find a previous supplier, you could feel free to contact ABC Machinery!
Get In Touch Now!
We receive enquiries in English, Español (Spanish), Русский язык (Russian), Français (French) and العربية (Arabic). Our professional team will reply to you within one business day. Please feel FREE to contact us!
Your privacy is important to us,we are committed to marking sure your privacy is confidential.