Disposing of your wood waste can be a nightmare. This is due to the large space and volume that these materials occupy. Compacting this waste is the ultimate solution. Not only will it help you dispose of wood wastes in smaller sizes but you may make some money off it. Wood waste such as sawdust, wood chips, tree barks, and twigs can be made into briquettes. These are alternative sources of fuel and an efficient way to cut on your energy bill.
Wood briquettes are made by a wood briquette machine. Also referred to as a briquette press, it compacts wood wasted into briquettes. This process aided by wood lignin which binds briquettes together without requiring glue additives. High pressure and temperature are required for this process to be successful.

There are various types of briquette machines available. These include:
Screw type briquette machine. This compresses materials through a screw type press. It produces briquettes with a hollow center. This ensures that the product is fully combusted as air is in contact with a larger surface as it burns.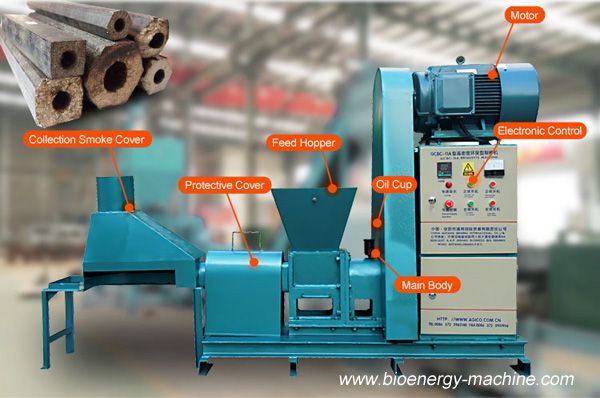 Stamping type briquette machine. This multifunctional press can produce briquettes as well as pellets. This makes it popular and well adopted. As this is mechanically operated it won't hike your power bill.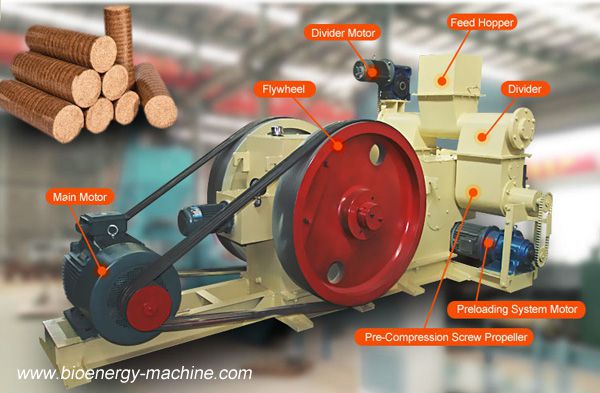 All these machines will compact sawdust, wood chips, and small twigs into wood briquettes. Suitable for industrial boilers. Charcoal dust, waste paper, and cardboard remains will be compacted into charcoal briquettes which can be used in barbeques.

Wood briquette making process
Sourcing raw materials- Raw materials to be compacted into briquettes are availed. This is mainly sawdust and wood chips. Larger wood pieces and twigs are crushed to smaller pieces that can easily be pressed together.
Materials containing high moisture content are then dried. Sun drying or mechanical drying can be used. Only dry materials are suitable for briquetting.
Materials are fed into the wood briquette machine. Pressure and heat is exerted on these materials binding them into briquettes. Wood wastes do not require additional binding materials. Different regular shapes and sizes are produced depending on the machine type used.
Briquettes are then stored ready for use or packaged for transportation and sale to suitable customers.

Advantages of using a wood briquette machine
Small sizes

. Wood briquette machines are small in sizes and thus will fit perfectly in your workshop or furniture shop. This will, in turn, save you storage space used for wood wastes.
Versatility. These machines produce briquettes of a regular and constant shape. The briquettes will be easy to store and package. As the machines can be used with different raw materials, they will always be running producing efficient fuel source.
Produces high-quality fuel. Wood briquettes are efficient sources of heat. Due to this factor, they are highly utilized in commercial boilers substituting other products. Its use produces clean and environmentally friendly energy, unlike raw wood, coal, gas or kerosene.
Briquettes are in high demand. As this is clean energy, wood briquettes will fetch a good price. Its regular shape and ease in transportation has it preferred for residential heating.
Apart from saving you space and easing your wood waste disposal, a wood briquette machine will be a good business opportunity. With a wide range of use, wood briquettes will be of economic value to you.
Get In Touch Now!
We receive enquiries in English, Español (Spanish), Русский язык (Russian), Français (French) and العربية (Arabic). Our professional team will reply to you within one business day. Please feel FREE to contact us!
Your privacy is important to us,we are committed to marking sure your privacy is confidential.