Pellet presses can be used for a variety of applications spanning the agricultural/aqua sectors to chemical applications.The presses commonly used are ring die and flat die presses. The differing technological designs in the presses facilitate the processing raw materials by compacting dry powders, by combining both dry and wet ingredients, or by applying heat under high pressure to coat the compressed product with polymers.
Pellet presses generally require low startup costs and reasonable operating expenditure. The pelleting industry bears the distinct advantage of being so versatile that it can use any locally produced agro-forestry by-product or waste, so that it can be considered a sustainable and renewable form of energy. Further the pellet mill technology can be applied to scale in that it can be employed by a single farmer or in mass production by factories and in any country.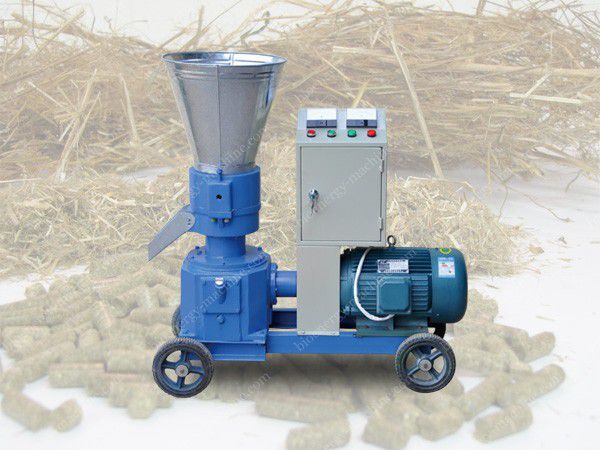 One of the main purposes of pellet mill technology is in the production of pellet biofuel. Pellet fuel can be made of any available biomass such as wood chips, sawdust, grasses, hemp, energy crops, bagasse and even coconut and rice husks. This is a low cost, energy efficient, slower burning, low moisture, organic and environmentally friendly alternative fuel source, when compared to the steep costs and fluctuating prices of traditional fuels, that generate higher carbon emissions, contributing to the greenhouse gas effect. The advantage of fuel pellets is that their consistent configuration and size make for predictable combustion rates, which in turn can be utilised as stable efficient biofuel in boilers and in thermal energy applications. The compactness of the pellet fuel lends itself to easy storage and transport as affordable efficient burning fuel for domestic, commercial or power generation type applications.
Pellet mill technology is also a downstream industry that can stimulate the agriculture sector through use of either energy farm crops or recycling the by-products of the farming/agricultural industry. Pellet press technology is used to make animal and aqua feeds by combining a dry powdered ingredient such as flour or dehydrated grass with a moisture component, which become feedstock.
There are also chemical applications for pellet press processes. Special "KBr" pellets are used in infrared spectroscopy, which basically means that the pellets are used in a chemical technique to identify and quantify chemicals or materials. This process is also utilised in laboratory food analysis as well as the pharmaceutical industry. The beading or compacting process is used in the manufacture of polymer coated pills, that control the delivery, release and potency of the drugs to the consumer. The other chemical applications including production of plastics, colorants and pigments and graphite. The pellet press system can also perform dry pressing of powders at a fairly high rate to be useful in ceramic production.
Even the food industry has benefitted from the use of pelleting to create uniformed size compact snacks and foods (eg cereals) of similar density at high output levels. The pelleting process is also used in the beverage manufacturing industry (eg whisky and rum production).
As a result, the value of a pellet machine makes it a worthy asset. The durability and seemingly infinite shelf life of the pellet press, the simplicity and cost effectiveness of the technology and the ability to scale up or down to suit production demands in a start-up business makes the pellet press a very useful investment.
Get In Touch Now!
We receive enquiries in English, Español (Spanish), Русский язык (Russian), Français (French) and العربية (Arabic). Our professional team will reply to you within one business day. Please feel FREE to contact us!
Your privacy is important to us,we are committed to marking sure your privacy is confidential.