Mobile Pellet plant is the latest development of the
pellet production plant
. Used for producing animal feed pellets and biomass pellets, the plant is designed to use some of the widely available raw materials such as crop waste, saw dust, straw and feed mixtures to name a few to produce flawless pellets.
Advantages of Setting Up a small Mobile Wood Pellet Plant
The plant itself is a full set and comes with everything you'll need to produce the pellets. Among them is the hammer mill that you'll be using to chop up any raw material larger than 5mm in size.
It also comes with a material mixing and storage bin, cyclone separator, screw feeder, water tank, bucket conveyor, electric cabinet, ZLSP-300BR model wood pellet machine and foundation frame.
Each of this component is designed to automate the production process, with the only work you'll be doing being inserting the raw materials into the feeder and packaging them thereafter, nothing else. Any other process will be handled automatically by the plant.
The make itself is both small and mobile. Plus you'll be installing everything it comes with on an iron frame that only measures 3500 x 1960 mm, which makes it suitable for a small scale pellet production or home use.
The pellet plant boasts an impressive capacity of 250 kg/h to 450hg/h which makes it suitable for a small scale pellet production and home use.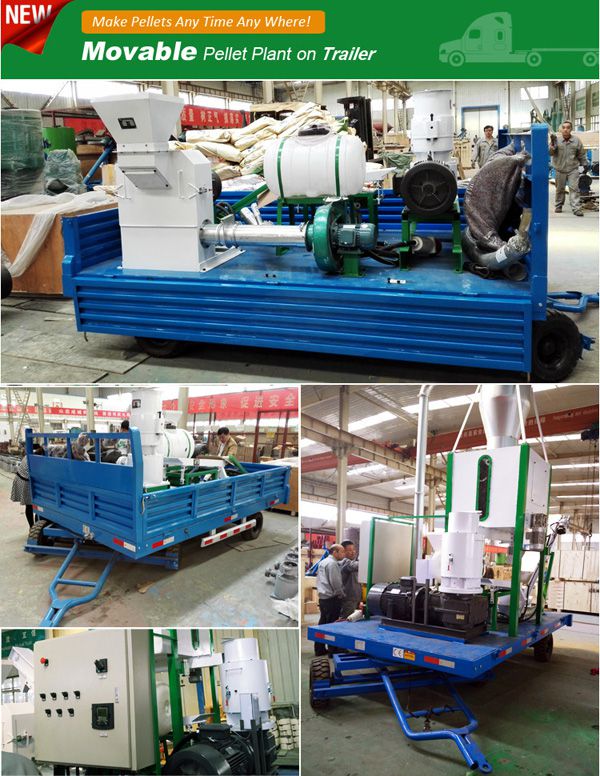 You don't have to worry about the door opening and causing harm or loss while the plant is operational. Thanks to the safety locks installed on the hammer mill to keep the shell locked, the door will remain locked until you decide to open it or until the operation is complete.
The electronic control system on the shell features premium grade Schneider Electric brand that guarantee a safe production. Also installed is an emergency stop button that you'll be using to bring the operation to an abrupt stop in case something arises.
Every section of the plant is made from high quality steel alloy to ensure durability. That's without mentioning that each part is processed using advanced technology that goes a long way to ensure excellent performance.
The rotating roller type is the main component of the machine, and is designed to ensure the best quality of the pellets you get. That is, pellets than are much denser, near-flawless, uniform in length, more lustrous and fully comply with the quality standards set.

Why Start Your Own Mobile Wood Pellet Production Plant
Reasons to start the plant abound. But at the core is the plan to take advantage of the increasing heating cost that comes with every winter. It's never too late to set up your own plant and start saving money.
All you need is wood waste and saw dust to make enough wood pellets to use at home and supply it around to your family and friends.
It's a small scale mobile pellet make that doesn't require you to rent a space. It also allows you to play around with a wide range of ingredients which make it one the best wood pellet makers you're likely to find.
Get In Touch Now!
We receive enquiries in English, Español (Spanish), Русский язык (Russian), Français (French) and العربية (Arabic). Our professional team will reply to you within one business day. Please feel FREE to contact us!
Your privacy is important to us,we are committed to marking sure your privacy is confidential.