Engineers have been doing countless experiments to determine the
right pellet mill
. Their research has been productive with strong driving force on stalk pellet machines. These are top-quality machines that are believed to make the finest animal feeds boosting the production of milk in cattle. This article seeks to cover on the corn stalk pellet machine in general, the corn stalk pellet making process, and applications of corn stalk pellets.
The Corn Stalk Pellet Machine
The
corn talk pellet machine
is an exceptional machine used to create pellets from minced materials. It uses high-technology to run and give the finest end product (pellets). It processes waste products into usable goods. In this case, waste corn stalks are turned into delicious feeds for cattle-the pellets. Its advanced design makes it one of the most reliable machines in the modern market. Its exterior and interior features make it one of the most sought after machine in the current times. It comes equipped with auto cooling system as well as a sophisticated oil adding system. Many farmers admire it because it saves them a lot of money that they would have used in buying pellets while they have farms full of corn stalk.

Corn Stalk Pellet Making Process
Turning corn stalks to cow's wonderful meal is a brilliant Do-It-Yourself concept. You must understand some little operations to get the finest pellets. Corn stalks are harvested and brought in large samples. This corn stalk pellet machine will be taking certain amounts of the stalks. Through high heat and compressing process, it turns them to wonderful pellets. The stalks undergo extreme pressure. They are carefully developed to remove any toxins that may be harmful to the cattle. Operators are given the right guidelines on how to connect the machine, how to place the stalks and how to run the machine to avoid accidents.
Before pelleting, it is important to make sure that corn stalks are crushed appropriately. This is because you want the most approved pellets the market. The machine runs after being fed into the feeding mechanism. Crushed corn stalks are then sent to the extruding chamber. Here, there is the pellet roller and flat die. The extrusion of rotating pressure presses corn stalks into density pellets. It sends them to be discharged from the pellet die hole.
Parameters of diesel pellet machines (for electric, PTO types pls click picture)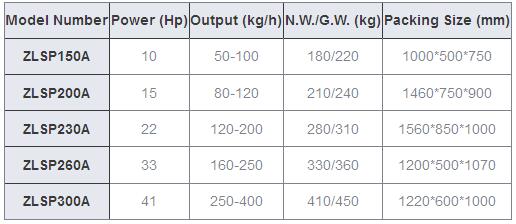 Corn Stalk Pellets Applications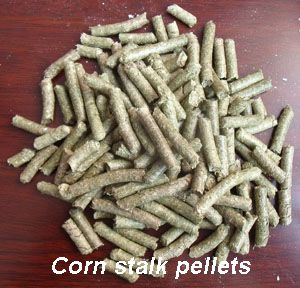 Corn stalk pellets are small in size. They have high density making them suitable for animals' feeds. Recent research reveals that pellets are more nutritious to cows. They play a major role in their general health. Farmers who understand the benefits of these machines have turned their profession as a promising career. It is cheaper to come up with your own pellets and even sell to an ever-ready market. Instead of burning corn stalks, you can turn them to valuable pellets that give you more money.
This is the machine to buy. It is easier to operate. Its positive low energy consumption saves you from high eclectic bills. Its high reliability levels mean that it will hardly break down. Engineers from a good company can help you fix and connect once you buy from the company. It comes with an operational manual that will always give you clear instructions as you operate it continuously.


Get In Touch Now!
We receive enquiries in English, Español (Spanish), Русский язык (Russian), Français (French) and العربية (Arabic). Our professional team will reply to you within one business day. Please feel FREE to contact us!
Your privacy is important to us,we are committed to marking sure your privacy is confidential.