Biomass is a type of fuel developed from various organic materials. It is renewable and very sustainable utilized to create heat, electricity and other forms of energy. Various materials can be used to make biomass fuels. Among them are: scrap lumber, forest debris, certain crops, manure and other types of organic waste.
As green energy especially biomass is becoming increasingly popular there are two ways of making them, you could either choose a
biomass briquette making machine
or a
biomass pellet making machine
.
In either of them, one would require a high quality machine from a trusted manufacturer (like
ABC Machinery
) which provides satisfying after sales services and consistent spare part supply. This is because a machine is only durable when there are abundant spare parts which are easily accessible to the owner of the machine. Now let's get back to the topic.
Why would you choose a pellet making machine over a briquette making machine and vice versa? Here are some considerations that will guide your decision on the matter.
Key differences
The biomass pellet machine can make the biomass raw materials and ingredients into cylindrical pellets which are between 2mm to 12 mm in diameter. This is relatively very small. Due to their small volumes, the biomass pellets can burn fully and are used at home or in water boilers. They are also utilizes in power generation and they can be used as horse bedding.
On the other hand the biomass briquette machine makes the powdery biomass into relatively large diameter with the choice of either having the central hole or not. The briquettes are not limited to a round shape; they can also be square or hexagonal depending on the customers' preference. The briquettes are generally used in BBQ grills, heating boilers and also in the generation of electricity.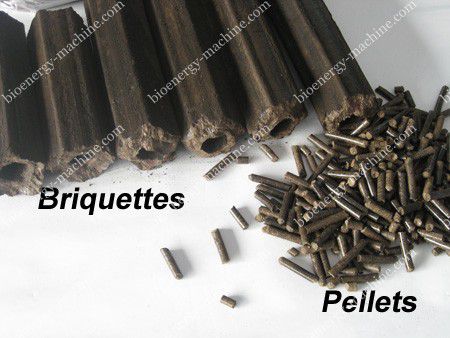 Purpose
Your choice will be directly influenced by the purpose and functionality of the intended machine. If your purpose of getting the machine is small scale, for example making solid bio fuel for heating or to be sold to people who will either use them for heating or in their bio pellet stoves then the best option would be to acquire a bio pellet maker machine.
On the other hand if the purpose for you getting the machine is large scale or industrial for example in a central boiler or power generation, then the
large biomass pellet machine
with the ring die or the
punching biomass briquette machine
which is not only limited to making briquettes but also makes pellets would be the logical choice.
If your intention is to make fuel that is to be used in a BBQ grill, the
screw type briquette making machine
would be the perfect choice for you. Its highly efficient in such a way that it serves a dual purpose for the briquettes manufactured in this machine, not only can they be used directly on the grill, but they can be converted to charcoal briquettes which typically sell at a higher price on the market. Therefore you can make a profit out of the machine.
Raw Materials
The raw materials available or intended to be used also play a great role in deciding whether to get a pellet making machine or a briquette making machine. Both the machines can utilize a number of materials to produce fuel, such as: straw, sawdust, peanut shell, rice husks and wood. Although this is so, one machine may perform much better than the other when it comes to working with different materials. For example, the pellet machine is more suitable when working with alfalfa as a raw material. The pellet making machine also performs better and more efficiently when it comes to working with straw.
Verdict
Green energy, especially biomass fuels are in an industry that is constantly growing. The world these days seeks to find cheaper, more efficient and greener ways to produce energy. In the United States biomass fuel accounted for 4 percent of the energy used. This number may seem small but relative to the past years, it's a big number.
In conclusion, regardless of whether you choose the pellet making machine or the briquette making machine, you will end up with a very efficient cost saving type of fuel which can be personally used, or sold to make a profit.
Get In Touch Now!
We receive enquiries in English, Español (Spanish), Русский язык (Russian), Français (French) and العربية (Arabic). Our professional team will reply to you within one business day. Please feel FREE to contact us!
Your privacy is important to us,we are committed to marking sure your privacy is confidential.