Wood briquettes machine is mainly used to produce wood and sawdust briquettes. However, the machine can also be used with hay, cotton stalk, paperboard, rice husk, sugarcane bagasse or any other crop waste to produce briquettes which can be cuboid, rectangular or cylindrical in shape. There are various types of wood briquettes and they include mechanical stamping briquette press, hydraulic briquette machine, screw briquetting machine among others.
All these machines produce end products with different shapes. For example, a screw briquetting machine can produce wood briquettes with rectangular or hexagonal shapes with hollows inside them, while a punching briquette press produces wood briquette with rod-like shapes. Some machines can also be customized depending on the user needs.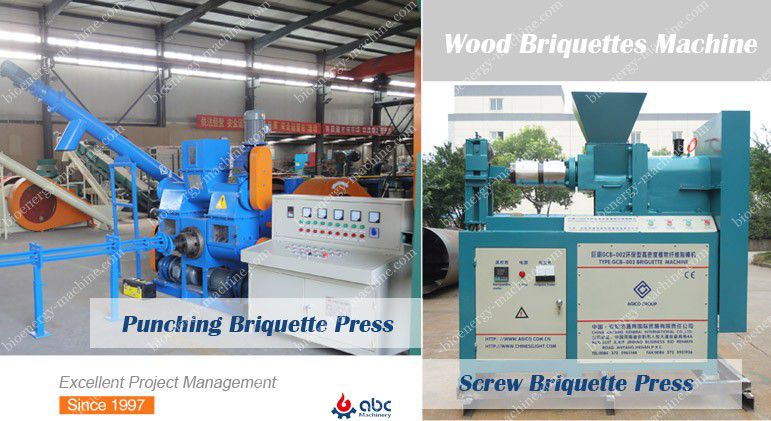 How a Wood Briquettes Machine Works
First, you need to sort out the wood chips, grass, rice husk etc. to ensure what you are processing is free from waste. Thereafter, load it into the machine where it will be crashed down by a hammer mill into powder. In case the powder has high moisture content, it should be passed through a dryer in order to reduce the moisture content to 12 percent or less. The powder will then be put in a material bin and later conveyed to the briquetting cavity via a screw, hydraulic or mechanical conveyer. Thereafter, all the materials will be pressed under very high pressure by a presser which will turn the powder into briquettes.
Advantages of a Wood Briquettes Machine
A Wood Briquettes machine is very useful equipment and it comes with a lot of benefits. Some of its advantages are:
It has a good performance rate and it helps to turn wastes into useful products. The machine compacts wood wastes to minimum volume wood briq0uettes that are easier to handle.

The machines are easy to use and maintain. Some wood briquettes machines such as hydraulic wood briquettes machines have electrical systems with touch screen, touch controls, motor protector, automatic alarm device, automatic feeding system, briquettes customization among others. They make the process of briquetting to be very easy because all the processes can be seen and controlled from the screen. The automatic alarm system which includes temperature alarm, blockage alarm and over-pressure help to ensure production safety. An automatic steady system guarantees steady production and preventing material blockage. You can also customize the briquettes according to the shape that you want or depending on customer requirement. A Mechanical Briquettes Machine can also by manually managed easily.

The machines are environmentally friendly. The whole process of wood briquettes production is natural with no additional chemical components. The briquettes are usually formed simply under high pressure without the need of any additional artificial binders hence they remain as natural products.
Uses of Wood Briquettes
Wood briquettes are used as fuel for fireplaces, furnaces, wood stoves and wood boilers. They are said to be carbon- neutral source of energy because when they are burned they only release as much carbon-dioxide that can be naturally absorbed by trees and plants. Also Note that the briquettes can still be recycled.
Get In Touch Now!
We receive enquiries in English, Español (Spanish), Русский язык (Russian), Français (French) and العربية (Arabic). Our professional team will reply to you within one business day. Please feel FREE to contact us!
Your privacy is important to us,we are committed to marking sure your privacy is confidential.