Small wood pellet plant is a complete pellet plant that is used for making biomass wood fuel. The capacity of this plant lies between 200-700kg/h. Based on your requirements; the small wood pellet plant in most cases will either use a
Small Ring Die Pellet Mill
or
Flat Die Pellet Mill
. If you are interested in small productivity, then the small wood pellet plant becomes your ideal choice. For you to acquire one, it is very necessary to understand the functionality including its composition, advantages and other features.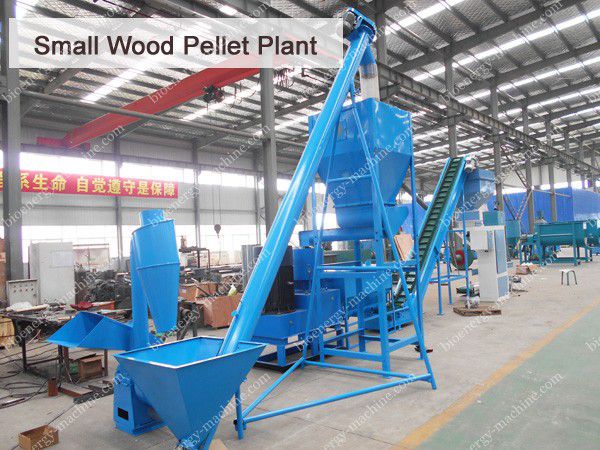 The composition of small wood pellet plant
The components of this plant are as follows:
Crusher/hammer mill that is designed in a manner that can grind into the needed fineness the different types of biomass raw materials. Some of the ground materials required to pelletized include wood shavings, straw, and sawdust.
A conveyor transports material from one mill to another. The design of this equipment can either be in a horizontal, slope or a vertical manner.
Small ring die pellet mill or flat die pellet mill is an important part of pelletizing production and hence plays a crucial role in affecting the quality and the capacity of pellets.
Pellet cooler; this involves a dynamic process involving the transfer of heat and mass in a simultaneous way between the pellets and the cooling air.
Advantages of small wood pellet plant
A small wood pellet plant is an ultimate solution to the need of pellets. With the use of this machine, you can be to get pellets form wood shaving, sawdust or crop straw. Some of the advantages observed in the use of this machine are as follows;

1. It can solve the hard task of traditional pellet making process by 30%
2. It works perfectly and requires low investment. The cost of running the machine is minimal as well.
3. As compared to the traditional way of making pellets, the machine does not waste the raw materials that are provided for making pellets.
4. Throughout their lifespan, it can run at minimal maintenance cost.


Sustainability of the small wood pellet plant
Easy to use
The process of using the machine is very easy. You are not required to go for a tutorial for you to learn how to operate it. Also, on the sale of this machine, there is a manual that is provided which helps ease understanding when followed. However, if you feel the manual provides insufficient guidance on its use, you can as well check the available online videos that provide teaching on its lubrication, spare parts replacement and machine installation.

Warranty
A one year warranty is guaranteed by most retailers on small wood pellet plant, and the warranty is effective from the shipment date.
This plant has greater benefits for you. There is great flexibility in its building and can, therefore, make animal bending materials; animal feeds, fuel pellets or fertilizer. The operation of this machine can be changed to suit the needed size for the finished product by altering the level of pellet compression. Various types of raw materials can as well be handled by this machine which becomes the best choice for you.
Get In Touch Now!
We receive enquiries in English, Español (Spanish), Русский язык (Russian), Français (French) and العربية (Arabic). Our professional team will reply to you within one business day. Please feel FREE to contact us!
Your privacy is important to us,we are committed to marking sure your privacy is confidential.