A pellet mill machine, otherwise referred to as a pellet press is a machine that has been specially made to create small pellets from powdered material. There are quite a number of applications of pellet press machines but the two most common uses are making wood and feed pellets. Like any other machine, improving the output will save on the time you spend and the quality of the pellets dispensed. Let us look at some infallible tips to maximizing the output of your pellet press.
1. Choose the correct model
A simple search in Amazon or Googe will reveal there are so many pellet mill machines out there. If you look keenly at the specs of each machine you find, you will soon realize they differ in various parameters. Each machine has been uniquely tailored for a specific purpose and the best way to ensure optimal results is to buy the right machine for the right job. For instance, if you are looking for a model that is easy to operate, takes up very little space, and is ideal for small farms, then the flat die pellet mill would suffice. You can compare the different specs of available ones to know which one works best for you.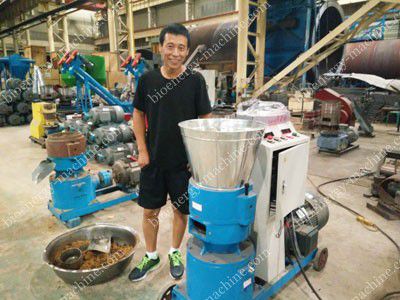 2. Take your time
For best results, you need to fight the temptation of doing everything in a hurry. Once you have selected the best pellet machine for your needs, you need to take some time to prepare before you commence the processing. For instance, If you are making feed pellets, you might need to make a mixture of wheat bran, oil, and sliver sand for approximately 30 minutes. You may also want to keep to the manufacturer guidelines of how long you should crank your machine. Overworking your pellet mill might eventually lead to a reduced quality of pellets produced.
3. Proper maintenance
As a rule of thumb, always go for dies and parts that adhere to stringent quality standards. Cheap is expensive is not just an adage - it is a truth that could mean how well your mill operates. When your machine needs some maintenance, do not shy away from investing in high-quality spare parts. The extra money you put in maintaining your mill will translate into the high-quality pellets that will be churned out. The die is the heart of the pellet mill machine and extra caution should be taken to ensure it is always in optimal working condition. It is important to ensure the space between the die and the pressure roller is as per the user manual. If the space is too big, the output quantity and quality will reduce drastically and if the space is too small, the mill wears out too fast. During the production process, adding some oil to the raw materials not only reduces attrition but also improves on the quality of pellets produced.
Apart from the tips shared above, you should also ensure you follow other general machine maintenance tips (like properly cleaning and oiling) to ensure your mill is always in good condition. This will not only improve your output but it will also increase the longevity of your mill.
Get In Touch Now!
We receive enquiries in English, Español (Spanish), Русский язык (Russian), Français (French) and العربية (Arabic). Our professional team will reply to you within one business day. Please feel FREE to contact us!
Your privacy is important to us,we are committed to marking sure your privacy is confidential.